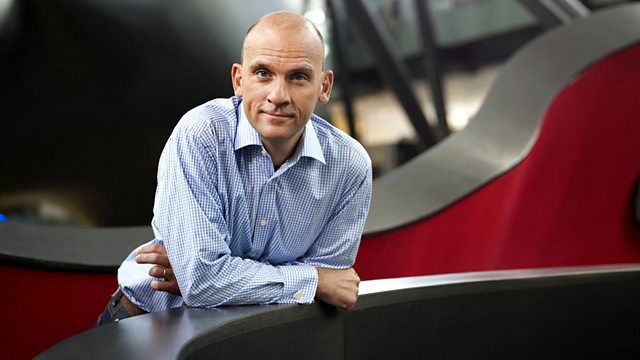 Alexander Hawkins Sextet
Jez Nelson presents an exclusive session from pianist and composer Alexander Hawkins with his sextet featuring Javier Carmona on drums, Otto Fischer on guitar, bassist Dominic Lash, Hannah Marshall on cello and Orphy Robinson on steel pans. Favoured by critics as 'the one to watch in 2010', Hawkins' adventurous ensemble play a combination of group improvisations, composed pieces and tunes by Sun Ra and Wadada Leo Smith.
Born in 1981, Hawkins is involved in some of the best young outfits around. He is a member of the transatlantic Convergence Quartet with American cornettist Taylor Ho Bynum and has recently released an album on Hammond C3 organ with bassist John Edwards and drummer Steve Noble. Receiving all-round praise from the critics, his album by the sextet in this session was hailed as 'an unqualified success' by All About Jazz.
Presenter: Jez Nelson
Studio guest: Alexander Hawkins
Producer: Joby Waldman & Peggy Sutton
PLAYLIST
CD track:
Artist: Neil Ardley
Track title: Rainbow Three
Composer: Neil Ardley
Album title: Kaleidoscope of Rainbows
Label: Dusk Fire Records
Tell us about your favourite jazz cello recordings by emailing jazzon3@bbc.co.uk
Alexander Hawkins joins Jez in the studio to chat about the music that has influenced his compositions for the sextet
Music played:
Artist: Rex Stewart and his Orchestra
Track title: Menelik - The Lion of Judah
Composer: Rex Stewart
Album title: Duke Ellington and His Orchestra: 1941
Label: Classics Records
Artist: Henry Threadgill
Track title: Grief
Composer: Henry Threadgill
Album title: Song Out Of My Trees
Label: Black Saint
Artist: Roscoe Mitchell Art Ensemble
Track title: Tatas Matoes
Composer: Lester Bowie
Album title: Congliptious
Label: Nessa Records
Alexander Hawkins Ensemble in an exclusive session for Jazz on 3 recorded at Phoenix Studios on October 5, 2009
Line up:
Alexander Hawkins - piano
Orphy Robinson - steel pans
Hannah Marshall - cello
Javier Carmona - drums
Dominic Lash - bass
Otto Fischer - guitar
As all Marines are riflemen, all members of the Ensemble are Kazooists.
Set list:
Sarah Teaches Kirsty To Read (Alexander Hawkins)
Composition 69(1) + 6(0) + 40(0) (Anthony Braxton)
Baobabs (Alexander Hawkins)
Albert Ayler - His Life Was Too Short (Leroy Jenkins)
Cowley Road Strut: Message From The East - for Pat Thomas (Alexander Hawkins)
120:4 (Alexander Hawkins)
Elmoic (Alexander Hawkins)
Owl (Friendly) / A Star Explodes 10,000 Years Ago, Seen By Chinese Astronomers (Alexander Hawkins)
For The People (Movement 1A) (Jerome Cooper / Oliver Lake)
Recommended further listening:
Artist: Alexander Hawkins Ensemble
Album title: No Now Is So
Label: FMR
Released: February 2009
Artist: Convergence Quartet
Album title: Live In Oxford
Label: FMR
Released: March 2007
Artist: DECOY
Album titles: Vol 1: Spirit and Vol 2: The Deep
Label: Bo' Weavil
Released: 11 January 2010
Joe McPhee improvisation on tenor saxophone in a solo session for Jazz on 3 recorded on December 12, 2009
Joe McPhee live dates with drummer Chris Corsano:
9 & 10 March @ Café Oto, London.
Last on