Main content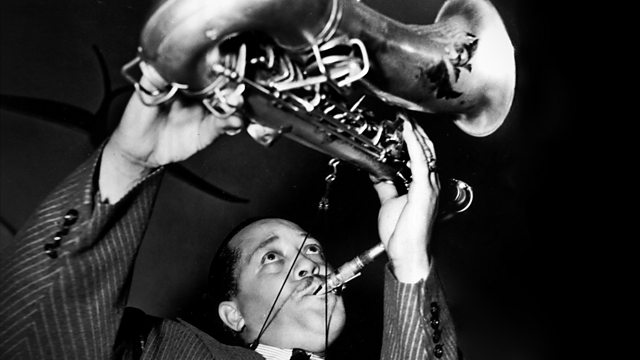 Donald Macleod and Geoffrey Smith explore bebop's roots in the work of some of its pioneers: Art Tatum, Charlie Christian, Lester Young, Coleman Hawkins and Roy Eldridge.
Bebop! It's a rather silly word for a crucial chapter in jazz history. It didn't just come out of nowhere but evolved, fizzed and bubbled into existence in the USA in the early 1940s, as a result of a gloriously rich and complex musical chemistry involving different combinations of musicians, styles and places. All week, Donald Macleod and his special guest, the writer and broadcaster Geoffrey Smith, have some serious fun investigating this amazing musical phenomenon.
In Monday's programme they start by exploring the roots of Bebop in the work of a varied cast of pioneers: pianist Art Tatum, guitarist Charlie Christian, tenor sax players Lester Young and Coleman Hawkins and trumpeter Roy Eldridge. Then it's off to Minton's Playhouse, the after-hours Harlem club and all-purpose Bebop laboratory, where some of the most innovative jazz musicians of the day let their hair down and jammed together into the small hours, gradually forging the new style through their collective experimentation. Finally, the two central figures of the Bebop revolution emerge from the crowd - alto sax player Charlie 'Yardbird' Parker and trumpeter Dizzy Gillespie - first separately, in earlier, pre-Bop incarnations, then playing together, explosively, in two early Bebop classics, 'Groovin' High' and 'Salt Peanuts'.
More episodes
Previous
You are at the first episode