Main content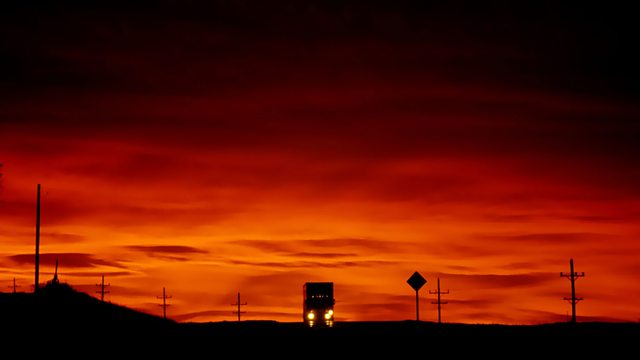 15/02/2010
Susan Sharpe presents music by Brahms, Shostakovich, Rheinberger, Wagenaar, Naumann, Mondonville, Sibelius, Gal, Parac, Lipinski, Wilms, Donizetti, A Gabrieli, Kokai and Janequin.
Presented by Susan Sharpe
01:01AM
Brahms, Johannes (1833-1897)
Symphony no.3 in F major (Op.90)
Berliner Philharmoniker, Sir Simon Rattle (conductor)
01:40AM
Shostakovich, Dmitry (1906-1975)
Symphony no.10 (Op.93) in E minor
Berliner Philharmoniker, Sir Simon Rattle (conductor)
02:38AM
Rheinberger, Josef (1839-1901)
Sonata for horn and piano in E flat major (Op.178)
Martin Van der Merwe (horn), Huib Christiaanse (piano)
03:01AM
Wagenaar, Johan (1862-1941)
Frithjof's Meerfahrt' - Concert piece for orchestra (Op.5)
Netherlands Radio Symphony Orchestra, Jac van Steen (conductor)
03:13AM
Moscheles, Ignaz (1794-1870)
Prelude No.1 in E major - from 50 Preludes or Introductions to all the major and minor keys (Op.73)
Tom Beghin (fortepiano - built by Gottlieb Hafner, Vienna, ca. 1830)
03:14AM
Mendelssohn, Felix (1809-1847)
Fantasia No.2 in E minor (Presto) 'The little trumpeter' - from 3 Fantasias (Caprices) for piano (Op.16)
Danijel Detoni (piano)
03:17AM
Naumann, Johann Gottlieb (1741-1801)
Symphonie à grand orchestre de l'opera Cora
Concerto Köln
03:29AM
Mondonville, Jean-Joseph Cassanéa de [1711-1772]
Grand Motet 'Dominus regnavit'
Ann Monoyios (soprano), Matthew White (counter tenor), Colin Ainsworth (tenor), Tafelmusik Chamber Choir, Tafelmusik Baroque Orchestra, Ivars Taurins (conductor)
03:54AM
Sibelius, Jean (1865-1957)
13 Pieces for piano (Op.76)
Eero Heinonen (piano)
04:15AM
Gal, Hans (1890-1987)
Serenade for string orchestra (Op.46)
Symphony Nova Scotia, Georg Tintner (conductor)
04:30AM
Németh-?amorinsky, ?tefan (1896-1975)
Birch Trees - symphonic poem
Slovak Radio Symphony Orchestra in Bratislava, Oliver Dohnányi (conductor)
04:50AM
Orff, Carl (1895-1982)
In Trutina - from Carmina Burana
Yvonne Kenny (soprano), Melbourne Symphony Orchestra, Vladimir Kamirski (conductor)
04:53AM
Parac, Ivo (1890-1954)
Andante amoroso for string quartet
Zagreb Quartet
05:01AM
Couperin, François (1668-1733)
Bruit de Guerre
Hungarian Brass Ensemble
05:05AM
Jenkins, John (1592-1678)
Newark Siege
Concordia, Mark Levy (conductor)
05:11AM
Byrd, William (c.1543-1623)
Selection from 'The Battle' for keyboard (MB.28.94)
Jautrite Putnina (piano)
05:17AM
Lipinski, Karol Józef (1790-1861)
Variations de Bravoure sur une Romance militaire in D major (Op.22) [c.1824]
Albrecht Breuninger (violin), Polish Radio Symphony Orchestra, Wojciech Rajski (conductor)
05:28AM
Handel, Georg Frideric (1685-1759)
Storge's aria "Scenes of horror .. While in never ceasing pain" -- from Jeptha
Maureen Forrester (contralto), I Solisti di Zagreb, Antonio Janigro (conductor)
05:33AM
Wilms, Johann Wilhelm (1772-1847)
Die Schlacht von Waterloo (1815) [Ein historisches Tongemälde für das Piano Forte (Op.43)]
Geert Bierling (organ of Beusichem by Christian Gottlieb Friedrich Witte, 1858)
05:58AM
Schubert, Franz (1797-1828) arr.Max Schonherr
Marche militaire No.1 in D major (D.733)
Edmonton Symphony Orchestra, Uri Mayer (conductor)
06:03AM
Kuula, Toivo (1883-1918)
March of the Cudgelmen
Finnish Radio Symphony Orchestra; Atso Almila (Conductor)
06:06AM
Donizetti, Gaetano (1797-1848)
Overture to La Fille du régiment
Oslo Philharmonic, Nello Santi (conductor)
06:15AM
Gabrieli, Andrea (1532/3-1585)
Aria della battaglia à 8
Theatrum Instrumentorum, Stefano Innocenti (conductor)
06:25AM
Kókai, Rezsö (1906-1962)
Recruiting Suite
Hungarian Radio Orchestra, András Kórodi (conductor)
06:43AM
Wiggins, Thomas (1849-1908)
Battle of Manassas (1861)
John Davis (piano)
06:52AM
Janequin, Clément (c.1485-1558)
Escoutez tous gentilz (La bataille de Marignon/La guerre) - from Chansons de maistre Clément Janequin, Paris c.1528
The King's Singers.