Main content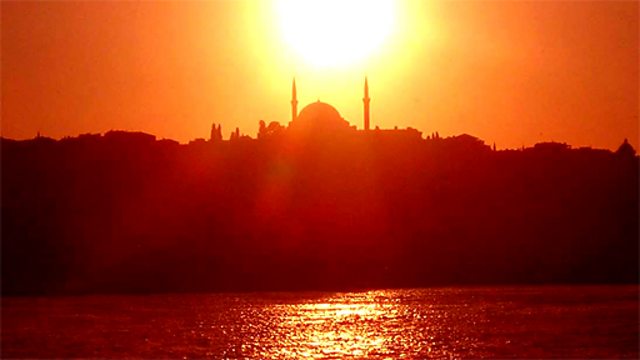 Selim Sesler, troubadour songs and an Alevi ceremony
Moshe Morad visits Istanbul in search of traditional music. With a live session from gypsy clarinettist Selim Sesler, troubador songs and a recording of and Alevi ceremony.
Istanbul is a European Capital of Culture for 2010 and in the first of two programmes Moshe Morad goes in search of traditional music in this melting-pot of peoples and cultures. Including a live session at Badehane's bar with gypsy clarinettist Selim Sesler, troubadour songs recorded in one of the city's oldest hamams, and a rare recording of an Alevi ceremony. A minority branch of Shia Islam, the Alevis controversially believe in equality between men and women, and meet once a week for music and mass-wailing.
Istanbul is a rich and diverse meeting point for musicians in Turkey, and it's a city where you can find every type of Turkish traditional music represented. It's also a cross-roads between Europe and Asia, East and West. Moshe Morad explores this rich mix and records sessions with many of Turkey's top musicians – including one of the best clarinettists in the world (Selim Sesler), and Saz player Cengiz Ozkan. The music and the city are brought to life in a number of atmospheric settings such as the 15th Century bath-house Cemberlitas, an Alebi ceremony and the tiny bar called Badehane - in a quiet street away from the hustle and bustle of Taksim, it's where Selim Sesler has played every Wednesday night for nearly a decade. Moshe learns about some of Turkey's best-loved traditional instruments such as the kamanche and the saz, hears the stories behind the music, and finds out from the people who live there what Istanbul means to them. Is this vibrant city an island in Turkey, is it in Europe or Asia, and is it secular or religious?
Presented by Moshe Morad
Produced by James Parkin
Tel. 020 7765 4661
Fax. 020 7765 5052
e-mail world.routes@bbc.co.uk
Music and featured items
Turkish and gypsy music

Turkish musician Omar Faruk Tekbilek describes the essences of Turkish music.

Duration: 09:21

Music Played

Selim Sesler

Selim Sesler discusses his career and reflects on the condition of the Roma people.

Duration: 06:06

Music Played

Future of Gypsy music

Moshe talkso to members of the Roma association about the future of Gypsy music.

Duration: 08:35

Music Played

Haman music and Cengiz Ozkan

Moshe learns how people would socialise, sing and play instruments in a haman.

Duration: 09:17

Music Played

Cengiz Ozkan and the Saz

Cengiz Ozkan describes his style of playing the Saz.

Duration: 08:55

Music Played

Alevi ceremony and the saz

Moshe talks about the Alevi and how the saz is central to the Alevi practice.

Duration: 07:10

Music Played

Turkish Muslims and the Alevi

Alp explains the relationship between the majority Muslims in Turkey and the Alevis.

Duration: 04:51

Music Played

Riza Osku and perceptions of Istanbul

Moshe and Riza Oksu discuss the contrasting perceptions of Istanbul.

Duration: 05:17

Music Played

Featured in...

This collection features our choice of musical highlights from across the globe.