Main content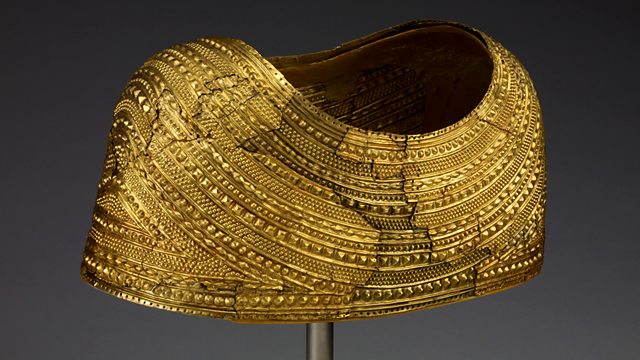 Mold Gold Cape
The world of 1700 BC explored through surviving objects. Neil MacGregor describes a remarkable gold cape now at the British Museum but discovered by quarrying workmen in Wales.
Director of the British Museum Neil MacGregor retells the history of human development from the first stone axe to the credit card, using 100 selected objects from the Museum.
Neil MacGregor continues to explore the world of around 3,600 years ago through some of the most powerful objects that remain - discovered in modern day Iraq, Crete, Egypt and now Wales.
In 1833 a group of workmen were looking for stones in a field near the village of Mold in North Wales when they unearthed a burial site with a skeleton covered by a crushed sheet of pure gold. Neil tells the story of what has become known at the British Museum as the Mold Gold Cape and tries to envisage the society that made it. Nothing like the contemporary courts of the pharaohs of Egypt and the palaces of the Minoans in Crete seem to have existed in Britain at that time, but he imagines a people with surprisingly sophisticated skills and social structures.
Last on

Podcast
Director of the British Museum, Neil MacGregor, retells humanity's history through objects