Main content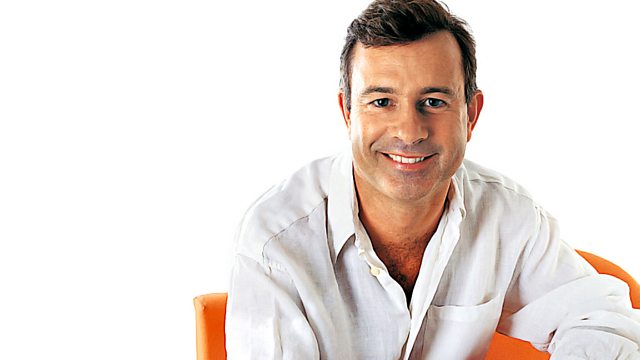 Thursday - James Jolly
With James Jolly. Bartok: Sonata for 2 pianos and percussion. Bach, arr Kodaly: Prelude and Fugue, BWV853. Beethoven: String Quartet in E flat. Falla: Night in the Gardens of Spain.
with James Jolly. Today, singers Sherrill Milnes, Plácido Domingo & José Cura conduct Verdi, Leoncavallo and Falla.
10.00
Bartok: Sonata for Two Pianos and Percussion
Murray Perahia, Georg Solti (pianos)
David Corkhill, Evelyn Glennie (percussion)
CBS MK 42625
10.27
Bach arr. Kodaly: Prelude and Fugue, BWV 853 (Well-tempered Clavier, Bk 1)
Maria Kliegel (cello), Jeno Jando (piano)
NAXOS 8554039
10.36
Beethoven: String Quartet in E flat, Op.127 (arranged for string orchestra)
Academy of St Martin-in-the-Fields, Murray Perahia (conductor)
SONY SK 93043
11.14
Verdi: "Ella mi fu rapita!.Parmi veder le lagrime" (Rigoletto)
Placido Domingo (tenor)
New Philharmonia Orchestra, Sherrill Milnes (conductor)
RCA 09026684462
11.20
Mascagni: Intermezzo (Cavalleria rusticana)
Philharmonia Orchestra, Herbert von Karajan (conductor)
EMI CDM 5666032 T
11.23
Leoncavallo: "Musette!.Testa adorata" (La Boheme)
Jose Cura (tenor and conductor), Philharmonia Orchestra
ERATO 3984273172
11.27
Falla: Nights in the Gardens of Spain
Daniel Barenboim (piano)
Chicago Symphony Orchestra, Placido Domingo (conductor)
TELDEC 0630171452
11.53
Barrera & Calleja: Adios, Granada
Victoria de Los Angeles (soprano and guitar)
EMI CMS 5669372.