Main content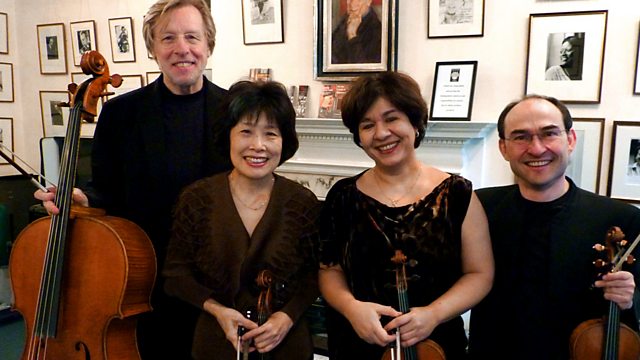 Michelangelo Quartet
The Michelangelo Quartet perform a recital at the Wigmore Hall in London. Shostakovich: String Quartet No 1 in C, Op 49. Beethoven: String Quartet in F, Op 59 No 1 (Rasumovsky).
A performance by the Michelangelo Quartet from London's Wigmore Hall. The quartet was formed in 2002 by four distinguished soloists, and today's programme includes the first of three quartets composed by Beethoven for Andrey Razumovsky, the Russian ambassador in Vienna, alongside the first of Shostakovich's fifteen quartets.
Shostakovich: Quartet for strings no.1 (Op.49) in C major
Beethoven: Quartet for strings (Op.59 No.1) in F major 'Rasumovsky'
The Michelangelo Quartet:
Mihaela Martin (violin)
Stephan Picard (violin)
Nobuko Imai (viola)
Frans Helmerson (cello).