Main content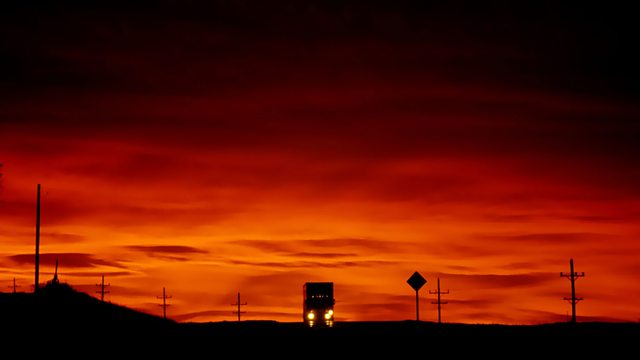 04/02/2010
John Shea presents music by Beethoven, Handel, Martinu, Skerl, Buxtehude, Mozart, Papandopulo, Brahms, Purcell, Grieg, Jacob, Dvorak, Abel, Schubert, Kodaly, Weber and Bach.
01:01AM
Beethoven, Ludwig van [1770 -1827]
Symphony no. 1 (Op.21) in C major
Romanian National Radio Orchestra, Horia Andreescu (conductor) recorded Mihail Jora Concert Hall, Bucharest
01:27AM
Handel, Georg Friedrich (1685-1759)
Concerto Grosso in F major (Op.6 No.9)
Estonian Radio Chamber Orchestra, Paul Mägi (conductor)
01:45AM
Martinu, Bohuslav (1890-1959)
Sonatina for clarinet & piano (1956)
Timothy Lines (clarinet), Philippe Cassard (piano)
01:56AM
Skerl, Dane (b. 1931)
Serenade for Strings
Slovenian Radio and Television Symphony Orchestra, Samo Hubad (conductor)
02:13AM
Buxtehude, Dietrich (1637-1707)
Toccata and Fugue in F (BuxWV.156)
Pieter van Dijk (organ) [Recorded at Oude Walenkerk, Amsterdam]
02:21AM
Beethoven, Ludwig van [1770 -1827]
Symphony no. 7 (Op.92) in A major
Romanian National Radio Orchestra, Horia Andreescu (conductor)
03:01AM
Mozart, Wolfgang Amadeus (1756-1791)
Violin Concerto No.5 in A major (K.219)
Pinchas Zukerman (violin/director), National Arts Centre Orchestra
03:31AM
Papandopulo, Boris (1906-1991)
Trio Sonata
Zagreb Guitar Trio - Istvan Römer and Goran Liste? (guitars), Darko Petrinjak (double bass)
03:44AM
Brahms, Johannes (1833-1897)
8 Pieces for Piano (Op.76)
Robert Silverman (piano)
04:13AM
Purcell, Henry (1659-1695)
Orchestral excerpts from the Married Beau
CBC Vancouver Orchestra, Monica Huggett (guest conductor)
04:25AM
Grieg, Edvard (1843-1907)
In Autumn, Overture (Op.11)
Orchestre National de France, Osmo Vänskä (conductor)
04:38AM
Andriessen, Louis (b. 1939)
Le voile du bonheur [The Veil of Happiness] (1971)
Vera Beths (vocals & violin), Reinbert de Leeuw (piano)
04:45AM
Jacob, Gordon (1895-1984)
5 Pieces arranged for harmonica and strings [originally for harmonica and piano]
Gianluca Littera (harmonica), I Cameristi Italiani
05:01AM
Tournier, Marcel (1879-1925)
Au Matin - étude de concert
Mojca Zlobko (harp)
05:05AM
Kuula, Toivo (1883-1918)
Sinfonia for orchestra (Op.36) 'Jupiter'
Finnish Radio Symphony Orchestra, Jorma Panula (conductor)
05:11AM
Dvorák, Antonín (1841-1904)
From 'Rusalka': Song to the Moon
Yvonne Kenny (soprano), Melbourne Symphony Orchestra, Vladimir Kamirski (conductor)
05:18AM
Abel, Carl Friedrich (1723-1787)
Sonata in A major, for cello and continuo
La Stagione Frankfurt: Rainer Zipperling (cello), Harald Hoeren (harpsichord)
05:27AM
Schubert, Franz (1797-1828)
Trio for piano and strings in E flat major (D.897), 'Notturno'
Grieg Trio
05:37AM
Vivaldi, Antonio (1678-1741)
Flute Concerto in D major (Op.10 No.3)
Karl Kaiser (flute), Camerata Koln
05:49AM
Duruflé, Maurice (1902-1986)
Quatre motets sur des thèmes grégoriens (Op.10)
Talinn Music High School Chamber Choir, Evi Eespere (director)
05:58AM
Kodály, Zoltán (1882-1967)
Serenade for 2 violins and viola (Op.12)
Bretislav Novotny (violin), Karel Pribyl (violin), Lubomir Maly (viola)
06:20AM
Weber, Carl Maria von (1786-1826)
Missa sancta No.2 in G major (Op.76) 'Jubelmesse'
Henriette Schellenberg (soprano), Laverne G'Froerer (mezzo), Keith Boldt (tenor), George Roberts (baritone), CBC Vancouver Orchestra, Vancouver Chamber Choir, Jon Washburn (conductor)
06:45AM
Bach, Johann Sebastian (1685-1750)
Concerto for keyboard and string orchestra No.4 in A major (BWV.1055)
Lars-Ulrik Mortensen (harpsichord), Ensemble 415.