Main content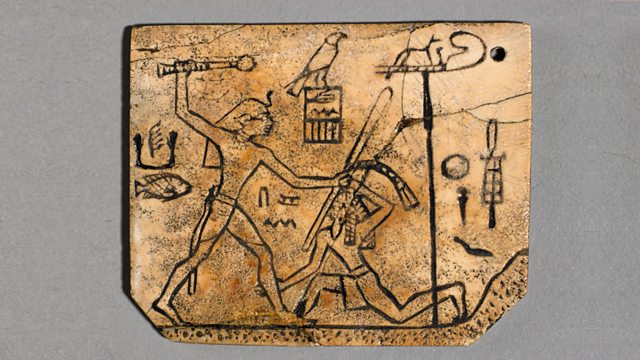 King Den's Sandal Label
Neil MacGregor revisits the early days of a great civilisation on the Nile to examine the life of one of the earliest Egyptian kings through a tiny sandal label.
Director of the British Museum Neil MacGregor investigates the impact on human society of large numbers of people coming together in the world's first cities between 5000 and 2000 BC. As they did so, they developed new trade links, the first handwriting, and new forms of leadership and beliefs.
All of these innovations are present in today's object: a small label made of hippo ivory that was attached to the sandal that one of the earliest known kings of Egypt, King Den, took to his grave. The label not only depicts the king in battle against unknown foes but also boasts the first writing in this history of the world - hieroglyphs that describe the king and his military conquests.
Neil MacGregor and contributors consider whether this is just the first indication that there would never be civilisation without war.
Last on

More episodes
Previous
You are at the first episode
Podcast
Director of the British Museum, Neil MacGregor, retells humanity's history through objects