Main content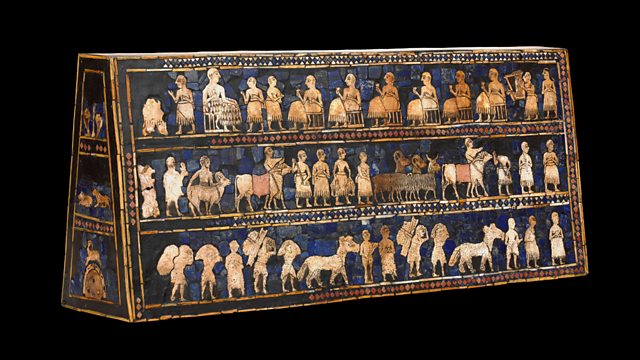 Standard of Ur
Neil MacGregor describes the discovery of a set of mosaics from the ancient Mesopotamian city of Ur, now in southern Iraq, which shows intricate scenes of battle and regal life.
Neil MacGregor examines the first great civilisations and one of the most spectacular discoveries of ancient royal goods. The magnificent gold and silver jewellery was found nearly 100 years ago at a royal burial site in the City of Ur in southern Iraq, at the heart of one of the first great civilisations in the world. It leads Neil to contemplate the nature of kingship and power in Mesopotamia. The Standard of Ur is a set of mosaic scenes that show powerful images of battle and regal life and that remain remarkably well preserved given its 4,500-year-old history.
Contributors include sociologist Anthony Giddens, on the growing sophistication of societies at this time, and the archaeologist Lamia Al-Gailani, who considers what Ancient Mesopotamia means to the people of modern-day Iraq.
Last on

Podcast
Director of the British Museum, Neil MacGregor, retells humanity's history through objects