Main content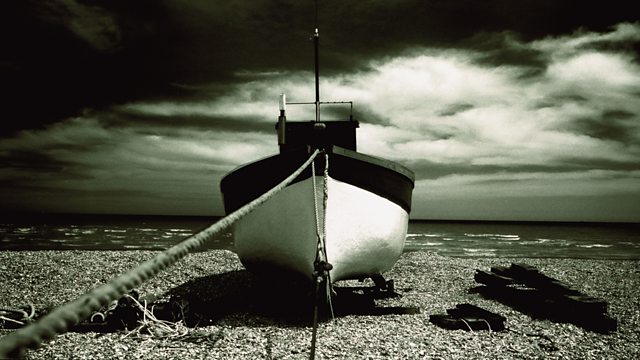 Shingle Street: An unusual sound portrait written and narrated by Paul Evans about the watchers and the watched on the shingle spit of Dungeness.
Dungeness is place to listen and to watch. It is a place to watch new land being made by the sea's shovelling of shingle; a place to watch the manufacture of power, a place to watch the migrating birds and moths find a transitory refuge. But watching is about far more than just looking, as writer and naturalist Paul Evans reveals in this powerful and haunting sound portrait of one of Britain's most unsettling landscapes, the shingle flats of Dungeness.
Situated between New Romney, Lydd and Camber on the Romney Marsh in Kent, Dungeness is a vast landscape of shingle ridges, accreted over the centuries by longshore drift. It is a landscape of contrasts and contradictions; nuclear power stations and fishing nets, wild birds and moth traps, shingle flats and wooden houses; an unsettling but fascinating place. It is the terminus for a railway line. There are no trees, no forests, but always the wind. At night shadows shift; fairy-lights glint in the dark where during the day there is the grey hulk of a power station.
Above the ever-present drone and hum of the power station there are the calls of the birds; in October a group of chattering Swallows wait for the wind to take them south. The wind also carries the smack and hiss of the sea as waves boil into froth and are sucked under. The sea unloads its cargo of shingle and England grows.
Dungeness has been described as 'one of the most valuable and yet vulnerable nature conservation sites in Great Britain'. It is one of the best examples of a shingle beach in the world, and home to many uncommon plants including lacey white night-scented Nottingham catchfly, as well as rare moths as well and a landing site for vast numbers of migratory birds in the spring and autumn, which are counted and studied by the Dungeness Bird Observatory. The Observatory has been based here since the 1950s and is housed at one end of five cottages originally built for the RNSSS, the Royal Navy signalling corps. Where today the washing line stands was once 'a tall flagpole which signalled coded flag messages between ships at sea and watching signallers inland'. Lighthouses have come and gone at Dungeness. The most recent was built in 1967. A spiral staircase leads the way to a vast lens and a place from which to gaze at the white cliffs of Dover and across the Channel.
Dungeness has long been a place to watch and be watched.
Last on
Broadcasts

Featured in...
Programmes that explore the relationship between peaceful, private and public worlds.

From city to nature - absorb the ideas, sounds and memories in this radio collection.

A selection of weird and wonderful programmes, perfect for late night listening