Main content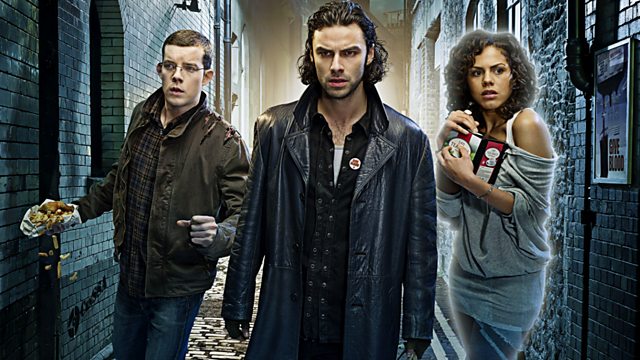 Comedy-drama series. Two strangers arrive in Bristol to torment Mitchell and George. Nina wrestles with troubles of her own, while Annie decides to get a job in the real world.
Comedy-drama series about three twenty-something housemates trying to live normal lives, despite struggling with unusual afflictions - one is a werewolf, one is a vampire and the other is a ghost.
They face a human threat in the form of the mysterious Professor Jaggat and the cold-hearted Kemp. Jaggat and Kemp are fundamentalist Christians who have discovered the existence of vampires, werewolves and ghosts - and are determined to destroy them or carry out brutal experiments upon them. They believe that vampires are the Devil incarnate and must be destroyed; that werewolves contain an evil gene that can be removed by violent scientific experiments; and that ghosts must be forced over to the other side whether they like it or not.
Two strangers arrive in Bristol to torment Mitchell and George. Nina wrestles with troubles of her own, while Annie decides to get a job in the real world. George struggles to deal with his murder of Herrick.
More episodes
Previous
You are at the first episode
Music and featured items
Add music you love and enjoy it with My Tracks
Timings (where shown) are from the start of the programme in hours and minutes
George is Attacked

George, along with Mitchell, gives chase to a couple of strangers who blindsided George, and Nina has something significant to show Anna.

Duration: 05:08

The Strangers Reveal Themselves

Mitchell knows one of the strangers, and George gets a little too physical with the other. Elsewhere, Nina needs Anna's help if she is to overcome what is soon to happen.

Duration: 07:59

Anna's Interview

George fails to help Nina adapt, and Anna goes for a job interview in a local pub.

Duration: 06:35

Bad Moon Rising

As the full moon rises; George goes it alone, Nina doesn't know what's going to happen, and Jagget and Kemp experiment on a test-subject. Also, Mitchell's lack of purpose enables him to make a friend.

Duration: 10:41

The Morning After…

George awakens to see a familiar face with a tempting offer, and Nina forces Annie to keep a secret.

Duration: 04:07

Nina's Secret

George and Nina come face to face; forcing some big personal issues to finally come to the surface.

Duration: 05:30

George's Personal Interest

Annie tries too hard to fit in when she's in the 'real world', and George's personal life invades his work.

Duration: 09:51

Windsor Terrace's Visitors

Two sets of strangers turn up to the house, and some have darker motives than others.

Duration: 08:55

Credits

| Role | Contributor |
| --- | --- |
| Annie | Lenora Crichlow |
| George | Russell Tovey |
| Mitchell | Aidan Turner |
| Nina | Sinead Keenan |
| Kemp | Donald Sumpter |
| Ivan | Paul Rhys |
| Daisy | Amy Manson |
| Lucy | Lyndsey Marshal |
| Hugh | Nathan Wright |
| Technician | Mark Fleischmann |
| Saul | Alex Lanipekun |
| Hennessey | Adrian Schiller |
| Galvin | Joel Gillman |
| Old Lady | Margaret John |
| Werewolf | Paul Kasey |
| Writer | Toby Whithouse |
| Producer | Matthew Bouch |
| Director | Colin Teague |

Featured in...

Comedy-drama series about housemates who are actually a werewolf, a vampire and a ghost.

Supernatural housemates discover that being human is more difficult than they imagined.