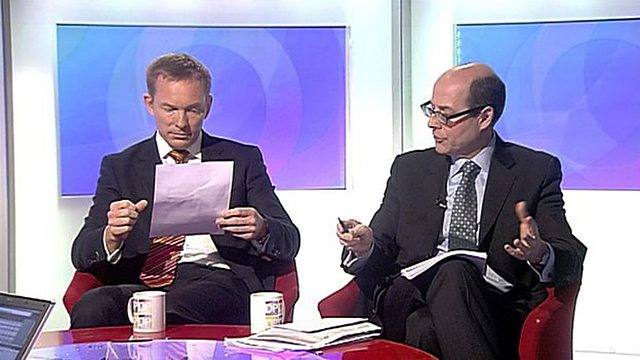 06/01/2010
As we write this, Andrew is battling through a blizzard to get to our central London studios, and who can blame him because we have a corker of a programme today.
Tory leader in the House of Lords, Tam Strathclyde will be with us, as will the Europe Minister, Chris Bryant.
As the snow dominates events in Britain, we'll be talking to the head of the Met Office. Last October they predicted a "mild winter". We'll be getting him to eat his words.
PMQs, the first of the decade will be at midday. With an election looming, expect some fireworks. Nick Robinson, our Political Editor will be joining us for that, and we'll be looking at what the punters make of it all with the bookies.
Economist, Will Hutton will be joining us --- we'll be looking at how the recession will dominate the campaign.
And as the Cross Party group on migration call on all parties to make a commitment in their manifestos not to allow the UK's population to reach 70 million (it's on course to do so) by limiting the number of migrants to less than 40,000 a year, we'll be talking one of the committee members, Frank Field.
All that plus our Guess the Year competition. We have a very special mug on offer today. Remember, you have to be in it to win it. We are trying to get the film on our website but having a few technical problems this morning.
All that at 1130 on BBC2 and later on iplayer.
Last on