Main content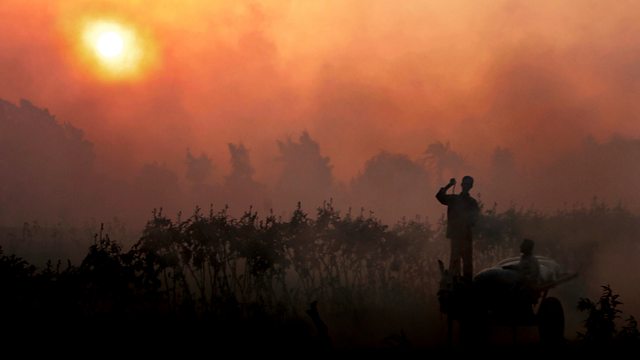 Season of Migration to the North, by Tayeb Salih
An adaptation of the late Tayeb Salih's famous novel. A young man returning from studying in Europe to his beloved village near the Nile unravels a tale which will lead to murder.
Season of Migration to the North
By Tayeb Salih
Translated by Denys Johnson-Davies
Dramatised by Philip Palmer.
The late Tayeb Salih's wry and sensual masterpiece has been described as the most important Arab novel of the 20th century. First published in Arabic in 1966, ten years after Sudan's independence, it's a hall of mirrors which conjures poetry and suspense from the ambivalence of the colonial legacy. A young man returning from studying in Europe to his beloved village 'on the bend in the Nile' unravels a tale which will lead to murder.
Suleyman......Beru Tessema
Mustafa Sa'eed....Zubin Varla
Mahjoub........Philip Arditti
Hosna Bint Mahmoud.Farzana Dua Elahe
Hajj Ahmed......Nadim Sawalha
Wad Rayyes.....Oscar James
Bint Majzoub......Ellen Thomas
Jean Morris......Donnla Hughes
Isabella Seymour...Carolyn Pickles
with Mitchell Zhangazha, Jonathan Tafler, Chris Pavlo,
Inam Mirza, Jill Cardo, and Dan Starkey
Produced and directed by Jonquil Panting.
Notes:
The most celebrated Arabic novel of the twentieth century is a sensual and shocking thriller from Sudan. Its fluid structure and elusive tone have defied many attempts to dramatise it in different media, but make it uniquely suited for radio. This dramatisation, the only one completed during Salih's lifetime, was made for BBC Radio 3 last year.
Not even the work of the recent Nobel Prize Winner, Egyptian Naguib Mahfouz, has achieved the literary status of SEASON OF MIGRATION TO THE NORTH by Sudanese-bornTayeb Salih. First published in Arabic in 1966, this short novel's translation into English in 1969 triggered a series of translations into all major languages, from Norwegian to Japanese, and a cult following. In 1989, it became the first Arabic novel to be published in the Penguin Classics series, and in 2001 was selected by a panel of Arab writers and critics as the most important Arab novel of the twentieth century. Its intelligent and richly poetic engagement with the ambivalences of the colonial legacy have made it a book which now features on University syllabuses around the world, and about which doctorates are written. Conversely it is still regularly banned and unbanned in states throughout the Arab world, and is currently banned in the place where it is so memorably set, the tiny rural villages of remote northern Sudan.
A young man returns to his beloved home 'on the bend of the Nile' after seven years studying in London, where he is proud to have completed a doctorate on the life of a minor English poet. He is comforted to find that the traditional life of the village he loves hasn't changed at all. Except for one man. A mysterious stranger has married into the village and settled down to farm. Then the stranger seeks him out. He has a tale to tell, and only a scholar can hear it. But the telling of the tale will lead them both into two brutally sexual murders, and turn the idyllic world of their village into hell.
THE CAST
Zubin Varla stars as Mustafa Sa'eed, and Beru Tessema as Suleyman. Cast includes Philip Arditti, Ellen Thomas, Nadim Sawalha, Farzana dua Elahe and Mitchell Zanghaza.
THE WRITER
Tayeb Salih was born in the Northern Province of the Sudan in 1929, and studied at the University of Khartoum, before leaving for the University of London. Coming from a background of small farmers and religious teachers, his original intention was to work in agriculture. Except, however, for a brief spell as a schoolmaster before coming to Britain, his working life was in broadcasting, including a spell as Head of Drama for the BBC's Arabic Service. He published four novels and a collection of short stories. His novella "The Wedding of Zein" was made into a drama in Libya, and a Cannes Festival prize-winning film by the Kuwaiti filmmaker Khalid Siddiq in the late 1970s.
For more than 10 years, Salih wrote a weekly column for the London-based Arabic language newspaper, "al Majalla," in which he explored various literary themes. He later became director general of the Ministry of Information in Doha, Qatar. He spent the last 10 years of his working career with UNESCO in Paris, where he held various posts and was finally UNESCO's representative in the Gulf States. Tayeb Salih died in London on 18th February 2009.
THE DRAMATIST
PHILIP PALMER is a novelist, producer, screen and TV writer whose credits include the BBC 1 film The Many Lives of Albert Walker, Rebus, Taggart, and The Bill. His extensive work for radio has included an iconoclastic dramatisation of Spenser's Faerie Queen, and the original plays The King's Coiner, Breaking Point, Blame, Rubato, The Travels of Marco Polo, Fallen and Gin and Rum. His Science Fiction novel, Debatable Space is published by Orbit, and its sequel Ketos is due next year.
Producer Jonquil Panting.