Main content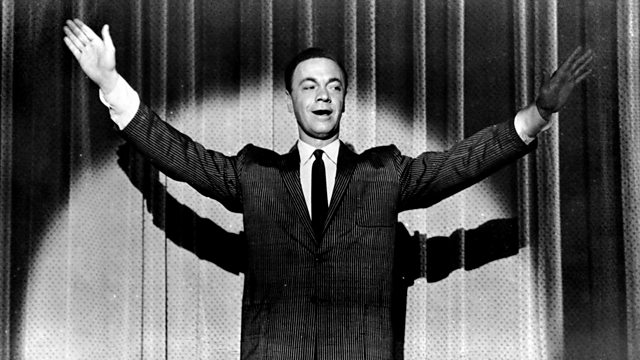 The Inventor of Rock and Roll: The Alan Freed Story
Radio 2 tells the story of American DJ Alan Freed, including how he coined the term 'rock and roll' and his spectacular fall from grace in the 1960 payola scandal.
Radio 2 tells the fascinating story of one of the most influential DJs in pop history, Alan Freed.
At a time when Frank Sinatra and Pat Boone dominated the airwaves Alan Freed would spend his weekends at his local record store, Record Rendezvous. It was at this store that he was first introduced to rhythm and blues music and witnessed first hand how popular it was with teenagers.
Working as a late night sports reporter on his local radio station, Freed's lucky break came when one of the disc jockeys called in sick. Whilst filling in, Freed played some of these Rhythm & Blues records he had collected at Record Rendezvous but was promptly fired for playing black artists on a "white" radio station. Due to an overwhelming response by listeners he was later rehired and given his own show. Freed's Moondog Show became extremely popular due to his passion and enthusiasm for the music he was playing.
In March 1952 he put on the Moondog Coronation Ball at the 10,000-capacity Cleveland Arena. To his surprise, 25,000 fans showed up, resulting in a near riot when they could not all be admitted. This gave him national publicity and highlighted the commercial potential of this music genre.
Freed moved to New York and became a huge star, bigger than the artists he was playing on his show. Although he was very popular with his teenage audience he was also making enemies. At a time when there was still segregation, the authorities didn't approve of the effect that this "black music" was having on society.
In the spring of 1958, when violence occurred outside the Boston Arena after a Freed stage show, local authorities charged him for inciting to riot. The charges were eventually dropped, but WINS declined to renew Freed's contract and he moved on to WABC in New York where he hosted a radio program and a locally televised dance show.
Freed's downfall began following an investigation into disc jockeys receiving payment for playing records, which later became known as "payola". WABC asked him to sign a statement confirming that he had never accepted payment for playing records. Freed claimed payments he'd received from record companies were given to express their gratitude for his support not as an inducement to play their records. He was promptly fired from both his radio show and the TV programme.
When his court case came to trial in 1962, Freed pleaded guilty to 2 counts of commercial bribery and received a suspended sentence and a $300 fine. Freed however held his head high and insisted that he had never played a record that he didn't like. His arrest has since been questioned as the charges stemmed from 1959 but payola wasn't illegal until 1960.
Although the punishment handed down to Freed was not severe, the side effects of negative publicity were such that no prestigious station would employ him. He moved to California, a broken man and turned to alcohol. He died in 1965 from liver disease at the age of 43. However Freed's legacy lives on and in 1986, the part he played in shaping musical history, was recognised when he was among the original inductees to the Rock and Roll Hall of Fame in his hometown of Cleveland.
The programme features contributions from people that were close to Alan including his son Lance. It also includes fascinating archive clips of Freed's original shows including an interview with Buddy Holly.
Last on

Broadcast