Main content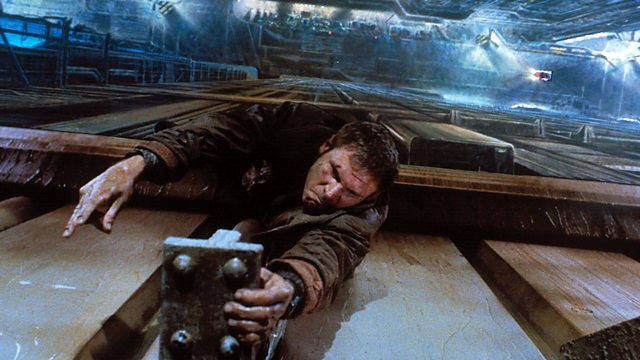 Blade Runner
Film noir meets science fiction in the 2007 final cut of Ridley Scott's visually stunning and brutal sci-fi classic about an ex-cop on the trail of mutinous androids.
The 2007 final cut of Ridley Scott's sci-fi classic.
Los Angeles, 2019. Mankind has succeeded in creating replicants - near-perfect humanoids superior in intelligence even to humans - but as a result of a mutiny on a human colony in outer space, it is now illegal for unlicensed replicants to be on Earth. The punishment, if they are caught, is death.
Four replicants have escaped and fled back to Earth, and android hunter or 'blade runner' Deckard is charged with identifying and 'retiring' them...
The Soundtrack
The composer Vangelis is probably best known for his moving score for Chariots of Fire, but he also created the soundtrack for Blade Runner, perfectly matching Ridley Scott's striking visuals with an ambitious, evocative soundscape.
In his BBC Four series Sound of Cinema: The Music That Made the Movies, Neil Brand speaks to Vangelis about his work in a rare interview.
You can find out more about how innovators drive the art of the film soundtrack forward in episode three of Neil Brand's series.
Credits
| Role | Contributor |
| --- | --- |
| Rick Deckard | Harrison Ford |
| Roy Batty | Rutger Hauer |
| Rachael | Sean Young |
| Gaff | Edward James Olmos |
| Director | Ridley Scott |
| Bryant | M Emmet Walsh |
| Pris | Daryl Hannah |
| JF Sebastian | William Sanderson |
| Leon Kowalski | Brion James |
| Dr Eldon Tyrell | Joe Turkel |
| Zhora | Joanna Cassidy |
| Hannibal Chew | James Hong |
| Holden | Morgan Paull |
| Writer | Hampton Fancher |
| Writer | David Peoples |
| Author | Philip K Dick |
| Producer | Michael Deeley |
| Producer | Charles de Lauzirika |
| Composer | Vangelis |
| Director of photography | Jordan Cronenweth |