Main content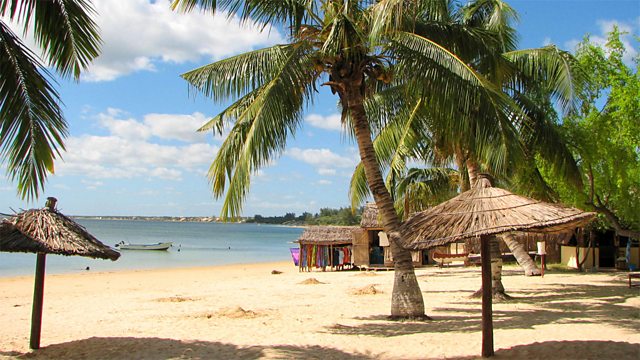 Hira Gasy and Court Music
Lucy Duran visits the island of Madagascar and presents music from the 18th-century Malagasy royal court and the rarely recorded dramatic story-telling tradition of Hira Gasy.
Lucy Duran visits the Indian Ocean island of Madagascar to discover its remarkable music. She is joined by guides Justin Vali and Paddy Bush and hears the ancient music of Madagascar's royal court as well as the extraordinary and rarely-recorded Hira Gasy. Hundreds of villagers gather to hear a variety performance which spreads news, entertains and teaches people a lesson.
Presented by Lucy Duran
Produced by James Parkin
Music and featured items
Adding a track to My Tracks will no longer be available from late March
Madagascar's ancient court music

Justin Vali and Paddy Bush describe the royal court music of Ancient Madagascar.

Duration: 07:08

Music Played

The ancient Malagasy king and his instruments

Paddy tells the history of a royal fort and the ancient Malagasy king's instruments.

Duration: 04:05

Music Played

Message from the ancestors

When a song is interrupted its believed to be a message from the musicians ancestors.

Duration: 07:16

Music Played

Changes in Madagascan music

Paddy explains how the bicycle and a gift from Queen Victoria changed Madagascan music.

Duration: 08:24

Music Played

Justin Vali plays The Valiha

Justin Vali and his ensemble play a song on the Valiha, a traditional bamboo zither.

Duration: 04:55

Music Played

Hira Gasy

Lucy visits the home of the Hira Gasy, who give a dramatic performance.

Duration: 09:00

Music Played

Hira Gasy's message

Lucy and her guides discuss the messages presented in the Hira Gasy's performances.

Duration: 11:21

Emotional power of the Hira Gasy

Lucy discusses the emotional power the Hira Gasy's performance.

Duration: 05:41

Music Played

Featured in...

This collection features our choice of musical highlights from across the globe.