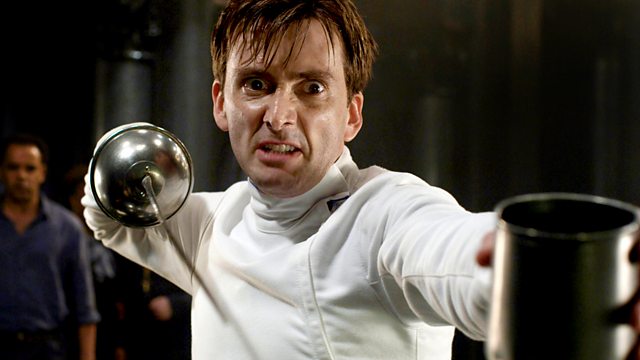 Hamlet
David Tennant stars in a film of the Royal Shakespeare Company's award-winning production of Shakespeare's great play. Director Gregory Doran's modern-dress production was hailed by the critics as thrilling, fast-moving and, in parts, very funny.
Hamlet must decide whether to avenge his father's murder at the hands of his uncle Claudius (played by Patrick Stewart), who has married his brother's wife - Hamlet's mother, Gertrude. This visually sumptuous screen version was filmed on location with all of the original stage cast.
BBC Productions in association with Illuminations and the Royal Shakespeare Company.
Credits
| Role | Contributor |
| --- | --- |
| Hamlet | David Tennant |
| Claudius/The Ghost | Patrick Stewart |
| Gertrude | Penny Downie |
| Polonius | Oliver Ford Davies |
| Ophelia | Mariah Gale |
| Laertes | Edward Bennett |
| Horatio | Peter De Jersey |
| Rosencrantz/Second Gravedigger | Sam Alexander |
| Guildenstern | Tom Davey |
| Gravedigger | Mark Hadfield |
| Player King | John Woodvine |
| Osric/Player Queen | Ryan Gage |
| Dumbshow King | Samuel Dutton |
| Dumbshow Queen/Priest | Jim Hooper |
| Reynaldo/Dumbshow Poisoner | David Ajala |
| Marcellus | Keith Osborn |
| Barnardo | Ewen Cummins |
| Francisco/Fortinbras | Robert Curtis |
| Voltemand | Roderick Smith |
| Cornelia | Andrea Harris |
| Lucianus | Ricky Champ |
| Lady-in-waiting | Riann Steele |
| Lady-in-waiting | Zoe Thorne |
| Director | Gregory Doran |