Main content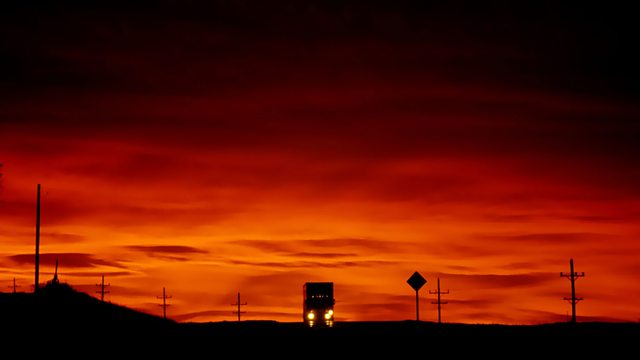 06/01/2010
John Shea presents music by Karlowicz, Lutoslawski, Sary, Brahms, Arnic, Skerjanc, Mozetich, Jadin, Prokofiev, Vivaldi, Scarlatti, Scriabin, Tobias, Praetorius, CPE Bach and Novak.
Presented by John Shea.
1.00am
Karlowicz, Mieczyslaw (1876-1909): Returning Waves, Op 9 - symphonic poem
National Polish Radio Symphony Orchestra
Jacek Kaspszyk (conductor)
1.27am
Lutoslawski, Witold (1913-1994): Livre pour orchestre
National Polish Radio Symphony Orchestra
Jacek Kaspszyk (conductor)
1.46am
Lutoslawski: Concerto for Orchestra
National Polish Radio Symphony Orchestra
Jacek Kaspszyk (conductor)
2.15am
Jeney, Zoltan (b.1943): Bird Tempting
Girls Choir of Gyor
Miklos Szabo (conductor)
2.22am
Sary, Laszlo (b.1940): Pebble Playing in a Pot (1976)
Aurel Hollo, Zoltan Racz (marimbas) - from the Amadinda Percussion Group
2.31am
Brahms, Johannes (1833-1897): Eight Piano Pieces, Op 76
Robert Silverman (piano)
3.01am
Arnic, Blaz (1901-1970): The Tempest - symphonic poem
Slovenian Radio and Television Symphony Orchestra
Lovrenc Arnic (conductor)
3,22am
Skerjanc, Lucijan Marija (1900-1973): Harp Concerto (1954)
Mojca Zlobko Vaigl (harp)
Slovenian Radio and Television Symphony Orchestra
David de Villiers (conductor)
3.38am
Mozetich, Marjan (b.1948): Procession
Moshe Hammer (violin)
Douglas Perry (viola)
Henry van der Sloot (cello)
Joel Quarrington (bass)
Raymond Luedeke (clarinet)
James McKay (bassoon)
Joan Watson (horn)
3.53am
Jadin, Hyacinthe (1776-1800): Sonata No 3 in F, Op 6
Patrick Cohen (fortepiano of Johan Lodewijk Dulken - 1793)
4.14am
Lassus, Orlande de (1532-1594): Miser, chi speme in cose mortal pone
4.16am
Verdelot, Philippe (c.1485-c.1532): Italia Mia
4.21am
Verdelot: Dormend Un'Giorno
4.24am
Gastoldi, Giovanni (c.1550-1622?): Bellissima Mirtilla
4.26am
Arcadelt, Jacques (c.1505-1568): Il Bianco e dolce cigno
Banchieri Singers
Denes Szabo (conductor)
4.29am
Koshkin, Nikita (b.1956): Alighting of Birds
Goran Listes (guitar)
4.39am
Prokofiev, Sergei (1891-1953): Paysage, Op 59 No 2
Roger Woodward (piano)
4.41am
Prokofiev, Sergei (1891-1953), arr. Heifetz: March (The Love for Three Oranges)
Pinchas Zukerman (violin)
Marc Neikrug (piano)
4.43am
Vivaldi, Antonio (1678-1741): Flute Concerto in D, Op 10 No 3
Karl Kaiser (flute)
Camerata Koln
4.55am
Couperin, Francois (1668-1733): Les baricades misterieuses (Sixieme ordre, Second Livre de pieces de clavecin)
Lars Ulrik Mortensen (harpsichord)
5.01am
Sibelius, Jean (1865-1957): Romance for violin and piano, Op 78 No 2
Reka Szilvay (violin)
Naoko Ichihashi (piano)
5.04am
Fibich, Zdenek (1850-1900): Poem for violin and piano
Jela Spitkova (violin)
Tatiana Franova (piano)
5.07am
Rossi, Salomone (c.1570-c.1630): Gia del volto - seconda parte
5.11am
Rossi: Tu parti, ahi lasso! - for tenor, viols, treble recorder and chitarrones
Eitan Sorek (tenor)
Daedalus
Roberto Festa (conductor)
5.15am
Scarlatti, Domenico (1685-1757): Sonata in A, Kk 208
5.19am
Scarlatti: Sonata in C, K420
Ilze Graubina (piano)
5.25am
Beethoven, Ludwig van (1770-1827): String Quartet in C minor, Op 18 No 4
Pavel Haas Quartet
5.50am
Scriabin, Alexander (1872-1915): Poema ekstaza/Le poeme de l'extase (Symphony No 4) - 1905-08
BBC Philharmonic
Vassily Sinaisky (conductor)
6.11am
Tobias, Rudolf (1873-1918): Sonatina No 2 in C minor
Vardo Rumessen (piano)
6.21am
Praetorius, Michael (c.1571-1621): Meine seel erhebet den Herren (Deutsches Magnificat)
Schetz Akademie
Howard Arman (conductor)
6.34am
Bach, Carl Philipp Emanuel (1714-1788): Sonata in D minor, Wq 62 No 15
Gonny van der Maten (organ)
6.42am
Novak, Vitezslav (1870-1949): In the Tatra Mountains, Op 26 - symphonic poem
BBC National Orchestra of Wales
Richard Hickox (conductor).