Main content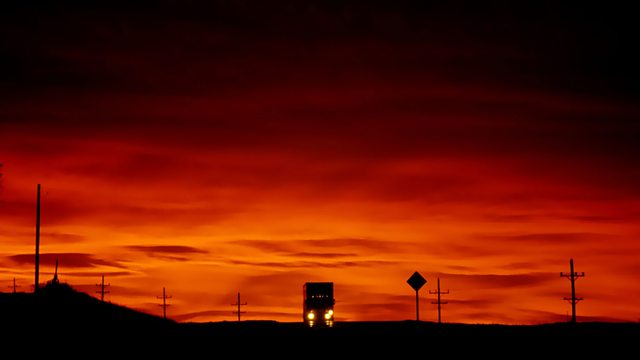 02/01/2010
Jonathan Swain presents music by Suk, Schumann, Ibert, Beethoven, Abel, Scheidt, Josquin, Bellini, Grieg, Vivaldi, Dallapiccola, Cozzolani, Tartini, Merku, Moniuszko and Bacewicz.
Presented by Jonathan Swain.
1.00am
Suk, Josef (1874-1935): Elegie (Pod dojmem Zeyerova Vysehradu), Op 23 - arr for piano trio
Aronowitz Ensemble
1.08am
Schumann, Robert (1810-1856): 4 Nachtstucke for piano, Op 23
Shai Wosner (piano)
(BBC Radio 3 New Generation Artist, 2007-2009)
1.25am
Schumann, Robert (1810-1856), text: Heine, Heinrich: Dichterliebe for voice and piano, Op 48
Christopher Glyn (piano)
Ronan Collett (baritone)
BBC Radio 3 New Generation Artist 2006-2008)
1.55am
Ibert, Jacques (1890-1962): Trois Pieces breves for wind quintet
Galliard Ensemble
2.03am
Suk, Josef (1874-1935): Krekovice mass in B minor for chorus, strings and organ
Marie Matejkova (soprano)
Ilona Satylova (alto)
Jiri Vinklarek (tenor)
Michael Mergl (bass)
Miluska Kvechova (organ)
Czech Radio Choir
Pilzen Radio Orchestra
Stanislav Bogunia (conductor)
2.28am
Schumann, Robert (1810-1856): Concerto in A minor for piano and orchestra, Op 54 (1845)
Olli Mustonen (piano)
Trondheim Symphony Orchestra
Eivind Aadland (conductor)
3.01am
Beethoven, Ludwig van (1770-1827): String Trio in G, Op 9 No 1
Trio Aristos
3.25am
Abel, Carl Friedrich (1723-1787): Praeludium, Adagio and Allegro (Pieces (27) for viola da gamba solo, K186-212)
Paolo Pandolfo (viola da gamba)
3.38am
Scheidt, Samuel (1587-1654): Alamanda
Vincent van Laar (organ of Nieuw-Scheemda hervormde kerk, built by Arp Schnitger in 1698)
3.47am
Scheidt, Samuel (1587-1654): Christe, der du bist Tag und Licht
Mario Penzar (organ)
(Recorded on the Romer organ in the Church of The Madonna of Jerusalem at Trski Vrh, 21 Nov 2002)
3.48am
Josquin Desprez (c.1440-1521): Missa de Beata Virgine (1497?)
BBC Singers
Bo Holten (conductor)
4.23am
Scarlatti, Alessandro (1660-1725): Concerto grosso No 1 in F minor
Tafelmusik Baroque Orchestra
Jeanne Lamon (conductor)
4.31am
Fodor, Carolus Emanuel (1759-c.1799): Air du Tonnelier, tempo di menuetto (Petits Airs connus varies pour le clavecin ou le pianoforte, Op 3)
Arthur Schoonderwoerd (fortepiano - after Anton Walter, 1795)
4.37am
Bellini, Vincenzo (1801-1835): Eccomi in lieta vesta.... Oh! Quante volte (I Capuleti e i Montecchi)
Adriana Marfisi (soprano)
Oslo Philharmonic
Nello Santi (conductor)
4.48am
Grieg, Edvard (1843-1907): Symphonic Dance No 4, Op 64
Norwegian Radio Orchestra
Goran W Nilson (conductor)
5.01am
Galuppi, Baldassare (1706-1785): Keyboard Sonata No 1 in B flat
Leo van Doeselaar (organ of S Candido, Tai di Cadore)
5.06am
Vivaldi, Antonio (1678-1741): Magnificat in G minor, RV610
Unidentified soloists
Choir of Latvian Radio
Riga Chamber Players
Sigvards Klava (conductor)
5.21am
Dallapiccola, Luigi (1904-1975): 2 Cori di Michelangelo Buonarroti il Giovane - set 1
The Netherlands Chamber Choir
Eric Ericson (conductor)
5.32am
Cozzolani, Suor Chiara Margarita (1602-c.1677): O quam bonus es - motet for two voices
Cappella Artemisia
5.43am
Viotti, Giovanni Battista (1755-1824): Duo concertante in G
Alexandar Avaramov, Ivan Peev (violins)
5.52am
Tartini, Giuseppe (1692-1770): Concerto in D for violin and orchestra, D28
Stavanger Symphony Orchestra
Fabio Biondi (violin/conductor)
6.09am
Merku, Pavle (b.1927): Astrazioni (Abstraction), Op 23
Trio Luwigana
6.22am
Moniuszko, Stanislaw (1819-1872): Uncertainty
6.24am
Moniuszko: Piesn wieczorna (Evening song)
Urszula Kryger (mezzo-soprano)
Katarzyna Jankowska-Borzykowska (piano)
6.28am
Bacewicz, Grazyna (1909-1969): Suite for chamber orchestra (1946)
Polish Radio Symphony Orchestra
Jan Krenz (conductor)
6.36am
Tchaikovsky, Pyotr Il'yich (1840-1893): Francesca da Rimini - symphonic fantasia after Dante, Op 32
Orchestre du Conservatoire de Musique du Quebec
Raffi Armenian (conductor).