Main content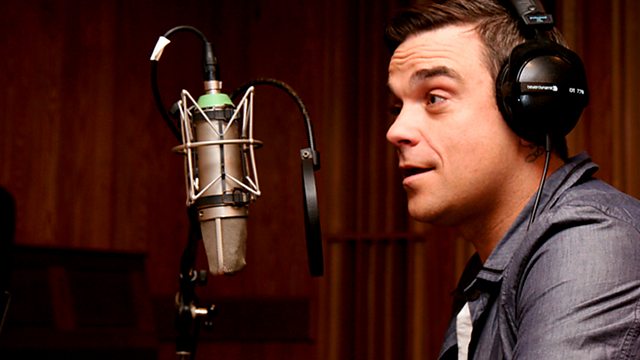 Robbie Williams' Line Of Enquiry
The cheeky charmer of pop, Robbie Williams, answers questions from a Radio 2 audience. Hosted by Kate Thornton.
He's the cheeky charmer of pop who won the heart of the nation as the young lad with the mischievous grin in Take That. Nowadays he's a multi-million selling solo artist, with a host of awards under his belt. However for Robbie Williams, the road to fame and fortune has been fraught with demons desperate to drag him down.
Having started his career at the tender age of fifteen, Robbie has lived his life in front of the camera lens - the giddy highs and the crashing lows plastered across the front pages of every tabloid paper. However, no matter how bad it gets, Robbie always seems to rise like a phoenix and prove his doubters wrong. He can proudly claim that he's sold more albums in the UK than any other British solo artist in music history and has won more BRIT Awards than any other artist to date.
In the ultimate chat show Robbie Williams bravely takes on the Radio 2 listeners. Kate Thornton and the listeners, plus Radio 2 presenters, ask the questions that they've always wanted to know the answer to. From what his ideal Christmas present would be to being scared of becoming a dad, the listeners really do find out all they need to know.
Robbie candidly talks about his relationship with his parents and his girlfriend, Ayda Fields and he reveals the moment when he knew that she was the one. He puts to rest the constant whisperings about his friendship and working relationship with Guy Chambers and reveals what he and the Take That boys have been up to. Plus he talks frankly about life as an addict and how he copes on a day-to-day basis with depression.
Part of the BBC Christmas 2009 season.