Main content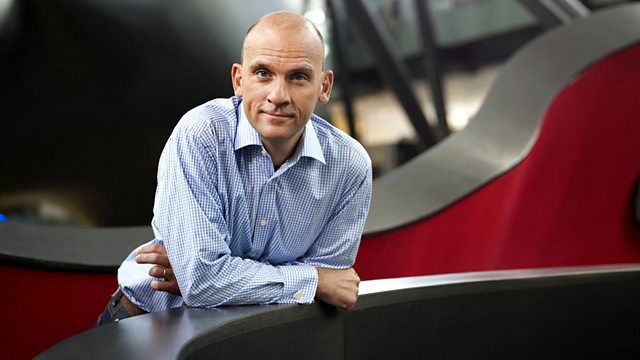 Best Sessions of 2009
Jez Nelson presents a selection of the best studio sessions recorded exclusively for Jazz on 3 during 2009.
Jez Nelson presents a selection of the best studio sessions recorded exclusively for Jazz on 3 during 2009.
Including empathetic improvisations from two elder statesmen of US jazz, Bennie Maupin and Buster Williams; strong melody-driven compositions by UK saxophonist Martin Speake and his quartet featuring pianist Bobo Stenson; New York poet Steve Dalachinsky's Insomnia Poems set to Pete M Wyer's time structured composition; and vibrant and creative topsy-turvy big band jazz by Peter Vermeersch's Flat Earth Society.
Flat Earth Society play Mutt.
Line-up:
Peter Vermeersch (clarinet, composer)
Benjamin Boutreur (alto sax)
Michel Mast (tenor sax)
Bruno Vansina (baritone sax and flute)
Marc Meeuwissen (trombone)
Stefaan Blancke (trombone)
Bart Maris (trumpet)
Luc Van Lieshout (trumpet)
Berlinde Deman (tuba)
Kristof Roseeuw (double bass)
Peter Vandenberghe (keyboards)
Teun Verbruggen (drums)
Pierre Vervloesem (guitar)
Tom Wouters (vibraphone, clarinet)
Wim Willaert (accordion)
Martin Speake's Change of Heart group play Weather Permitting.
Line-up:
Martin Speake (saxophone, composer)
Bobo Stenson (piano)
Steve Watts (bass)
Jeff Williams (drums)
Tom Arthurs' Quartet play Castalia.
Line up:
Tom Arthurs (trumpet)
Philipp Gropper (saxophone, composer)
Petter Eldh (bass)
Marc Lohr (drums)
Finn Peters plays the flute with an algorithm programmed by Matthew Yee-King.
Line-up:
Finn Peters (flute, saxophone, electronics)
Matthew Yee King (algorithm programmer)
Lukas Ligeti plays Entering Perceived Masks.
Line-up:
Lukas Ligeti (marimba lumina, composer)
Bennie Maupin and Buster Williams play Message to Prez.
Line up:
Bennie Maupin (reeds, composer)
Buster Williams (double bass, composer)
The Julian Lage Trio play Neal Hefti's composition Lil Darlin
Julian Lage (guitar)
Jorge Roeder (double bass)
Tupac Mantilla (percussion and Cajon)
Comedian Stewart Lee talks to trombonist Gail Brand about the link between free improvisation and comedy.
Gail Brand and Mark Sanders play Osbaldeston.
Line Up:
Gail Brand (trombone, composer)
Mark Sanders (drums and percussion, composer)
Led Bib and Eddie Parker play group improvisation Award-Winning Sandwich.
Line-up:
Eddie Parker (flute)
Led Bib:
Mark Holub (drums)
Liran Donin (bass)
Toby McLaren (keyboard)
Pete Grogan (alto saxophone)
Chris Williams (alto saxophone)
Extract of Insomnia Poems by Steve Dalachinsky and Pete M Wyer.
Line-up:
Steve Dalachinsky (spoken word)
Pete M Wyer (guitars, piano, field recordings and manipulations)
Evelyne Beech (vocals)
Chris Cundy (saxophones and clarinets)
Michael Cross (laptop and programming)
Robert Perry (bass)
Alex Hawkins Group play Elmoic.
Line-up:
Alex Hawkins (piano, composer)
Javier Carmona (drums)
Otto Fischer (guitar)
Dominic Lash (double bass)
Hannah Marshall (cello)
Orphy Robinson (steel pan and electronics).