Main content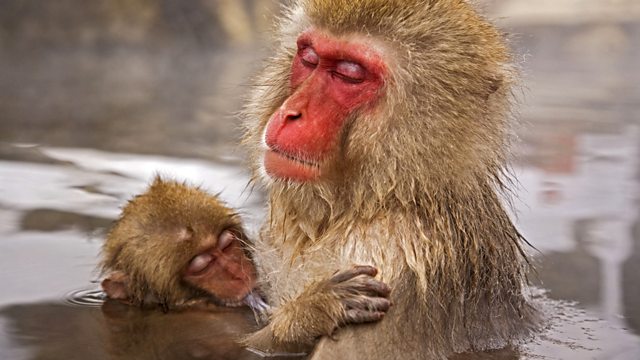 The nature documentary examines primates, including armies of Hamadryas baboons battling on the plains of Ethiopia, and macaques in Japan lounging in thermal springs.
Primates are just like humans - intelligent, quarrelsome, family-centred.
Huge armies of Hamadryas baboons, 400 strong, battle on the plains of Ethiopia to steal females and settle old scores. Japanese macaques in Japan beat the cold by lounging in thermal springs, but only if they come from the right family. An orangutan baby fails in its struggle to make an umbrella out of leaves to keep off the rain. Young capuchins cannot quite get the hang of smashing nuts with a large rock, a technique their parents have perfected. Chimpanzees, humans' closest relatives, have created an entire tool kit to get their food.
Last on
More episodes
Next
You are at the last episode
Chapters
Timings (where shown) are from the start of the programme in hours and minutes
Opening Titles

Duration: 00:23

Introduction to Primates

A closer look at the traits of primates; including their intelligence and their ability to learn.

Duration: 01:53

Societies

Hamadryas baboons battle with a rival clan, settling old scores and stealing females as they fight. Also, there's a class divide between macaque monkeys that sees some being turned out into the cold.

Duration: 11:05

Family Security

A look at a family of gorillas, including the protective father and the playful offspring. Also, a group of tarsiers, the only carnivorous primate, split up to hunt.

Duration: 07:04

Communication

Lar gibbons use their musical voice, newborn Phayre's leaf monkeys use their colour and male lemurs use their pungent smell in order to communicate with their respective species.

Duration: 06:18

Learning Curves

An orang-utan mother will spend up to nine years teaching her daughter the ways of the forest.

Duration: 04:30

Food Gathering

The Chacma baboons must time the tide right in order to gather nutrients while the white-faced capuchins, and their Brazilian cousins, both crack a food related problem.

Duration: 08:27

Tools

A small community of chimpanzees use tools in a variety of ways; including using a palm tree leaf as a pestle and a rock as a hammer.

Duration: 07:35

Life on Location – Ninety Nine Percent

The crew found they shared a great affinity with chimpanzees when they filmed them in their natural habitat.

Duration: 10:46

Credits

| Role | Contributor |
| --- | --- |
| Narrator | David Attenborough |
| Producer | Patrick Morris |
| Producer | Martha Holmes |
| Executive Producer | Michael Gunton |
| Writer | Paul Spillenger |

Broadcasts

BBC One

except Northern Ireland

&

BBC HD