Main content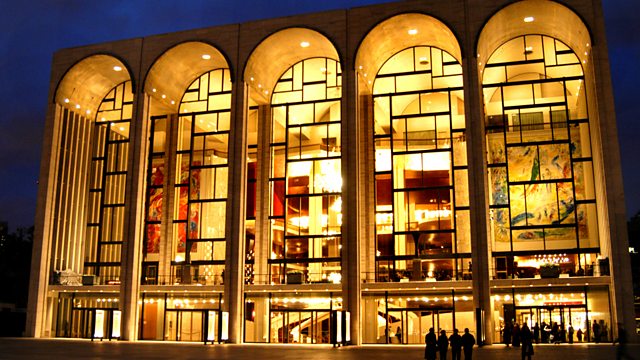 Offenbach's Les Contes d'Hoffmann
Live from the Metropolitan Opera, New York, James Levine conducts Joseph Calleja as the troubled poet Hoffmann, alongside soprano Anna Netrebko and mezzo Ekaterina Gubanova.
From the Metropolitan Opera, New York, James Levine conducts a production of Offenbach's Les Contes d'Hoffmann, starring Joseph Calleja as the troubled poet and Anna Netrebko, Ekaterina Gubanova and Kathleen Kim as Hoffmann's former loves.
Hoffmann is waiting for the object of his affection, Stella, to arrive and fills the time by telling the tale of his disastrous past loves. First, a mechanical doll called Olympia, destroyed by her owner. His second love Antonia dies when the impulse to sing is too much for her weak heart. Finally, the Venetian courtesan Giulietta steals his reflection as well as his heart before choosing a different suitor. Stella finally arrives to find Hoffmann drunk, so leaves with his rival for her love.
Presented by Margaret Juntwait with guest commentator Ira Siff. With live backstage interviews and the Met Quiz during the two intervals.
Olympia ...... Kathleen Kim (soprano)
Antonia/Stella ...... Anna Netrebko (soprano)
Giulietta ...... Ekaterina Gubanova (mezzo-soprano)
Nicklausse/The Muse ...... Kate Lindsey (mezzo-soprano)
Hoffmann ...... Joseph Calleja (tenor)
Four Villains ...... Alan Held
Chorus and Orchestra of Metropolitan Opera
James Levine (conductor).