Main content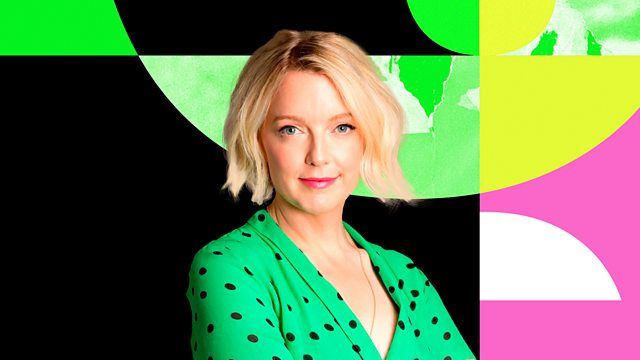 14/12/2009
Australian band Temper Trap join Lauren for a live session, plus she celebrates the 30th anniversary of The Clash's London Calling by speaking to cover photographer Penny Smith.
Australian indie greats Temper Trap join Lauren in the studio today for a barnstorming live session. Plus Lauren celebrates today's 30 year anniversary the seminal Clash album London Calling by speaking to the photographer behind the iconic cover Penny Smith.
Also today, Workers Playtime, a 30 minute digital black hole to aid workers through the mid morning slump featuring MPFrees, the Headphone Moment and the deadline game and Lauren delves into the weird world of TV in What's On The Box with Grace Dent.
Last on
Music Played
School of Seven Bells

Half Asleep

CD SINGLE.
Full Time Hobby.
1.

Holly Throsby

Now I Love Someone

The Beatles

Good Morning Good Morning

Sgt. Pepper's Lonely Hearts Club Band.
Parlophone.
11.

Simian Mobile Disco

Cruel Intentions (feat. Beth Ditto)

CD SINGLE.
WICHITA RECORDINGS.
1.

Frankie & the Heartstrings

Hunger

CD SINGLE.
Rough Trade.
1.

Grandmaster Flash & The Furious Five

The Message

TV on the Radio

Staring At The Sun

Kings of Leon

On Call

THE SATURDAY SESSIONS.
EMI.

The Smiths

Stop Me If You Think You've Heard This One Before

Louis Armstrong

Cool Yule

Yeasayer

Ambling Alp

CD SINGLE.
MUTE RECORDS.
1.

The Ting Tings

Shut Up and Let Me Go 

Fionn Regan - Protection Racket

The Temper Trap

Sweet Disposition

Graham Parker

&

The Rumour

Hold Back The Night

Mariachi El Bronx

Lady Rosales

The Housemartins

Happy Hour

Depeche Mode

Fragile Tension

The Smashing Pumpkins

Song For A Son

Pablo

Turntable Technology

Fyfe Dangerfield

She Needs Me

The Drums

I Felt Stupid

CD SINGLE.
MOSHI MOSHI RECORDS.
1.

Badly Drawn Boy

Is There Nothing We Could Do?

Florence + the Machine

Cosmic Love
Broadcast