Main content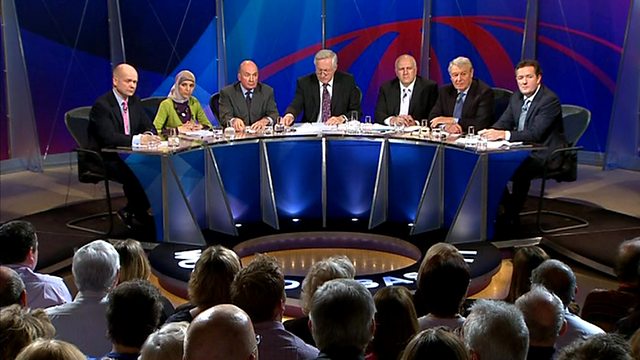 10/12/2009
David Dimbleby chairs from Wootton Bassett with a panel that includes General Sir Richard Dannatt, Bill Rammell, William Hague, Lord Ashdown, Salma Yaqoob and Piers Morgan.
Question Time comes from the iconic town of Wootton Bassett.
The panel includes the former head of the British Army General Sir Richard Dannatt, the Minister of State for the Armed Forces Bill Rammall MP, the shadow foreign secretary William Hague MP, the former Liberal Democrat leader Lord Ashdown, the former newspaper editor Piers Morgan and the Respect Party's Salma Yaqoob.
David Dimbleby chairs.
Chapters
Timings (where shown) are from the start of the programme in hours and minutes
Introduction

David Dimbleby introduces the panel in Wootton Bassett.

Duration: 01:20

Bonuses

Following the announcement of a tax on bankers' bonuses in yesterday's pre-Budget report, should the money be diverted to increased bonuses for servicemen and women on active duty?

Duration: 11:11

Decisions by amateurs?

Do you agree that decisions made by "amateurs" in the government are costing lives in Afghanistan as they did in Iraq?

Duration: 18:59

Withdrawal timetable

Hamid Karzai has said that Afghanistan cannot support its own security forces for another 15 to 20 years. Should we now expect the UK to continue providing troops and training until then at our cost?

Duration: 13:57

Soldiers' pay

The mother of a soldier killed in Afghanistan asks why soldiers are not paid what they are worth while MPs receive large sums of money.

Duration: 04:39

Conservative adviser

Paddy Ashdown accuses General Sir Richard Dannatt of compromising the independence of the military by backing the Tories at the same time as "taking the Queen's shilling".

Duration: 08:14

End credits

David Dimbleby previews Question Time venues for early 2010.

Duration: 01:37