Main content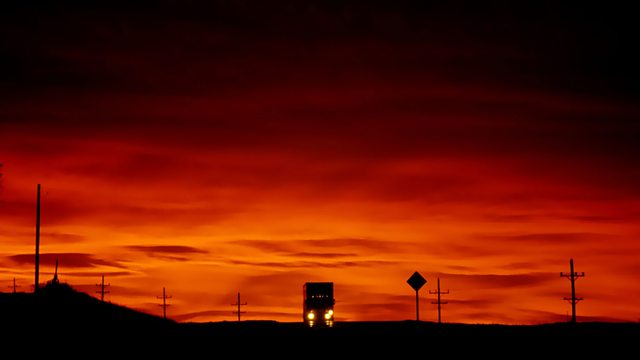 19/12/2009
Susan Sharpe presents music including Enescu, Mozart, Muthel, Prokofiev, Nielsen, Chopin, Schubert, Milhaud, Albicastro, Wiren, Tobias, Suchon, Fanny Mendelssohn, Gorczycki, Reger.
Presented by Susan Sharpe.
1.00am
Enescu, George (1881-1955): Violin Sonata No 3 in A, Op 25 (dans le caractere populaire roumain)
Sebastian Tegzesiu (violin)
Viorica Boerescu (piano)
1.29am
Mozart, Wolfgang Amadeus (1756-1791): String Quartet No 20 in D, K499 (Hoffmeister)
ANIMA Quartet
1.54am
Muthel, Johann Gottfried (1728-1788): Concerto in D minor for harpsichord, two bassoons, strings and continuo
Rhoda Patrick, David Mings (bassoons)
Gregor Hollman (harpsichord)
Musica Alta Ripa
2.18am
Prokofiev, Sergey (1891-1953): Symphony No 5, Op 100
Bulgarian National Radio Symphony Orchestra
Milen Nachev (conductor)
3.01am
Nielsen, Carl (1865-1931): String Quartet No 1 in G minor, Op 13 (1888 revised 1900)
Vertavo Quartet
3.26am
Chopin, Fryderyk (1810-1849): Scherzo No 1 in B, Op 20
Ronald Brautigam (fortepiano)
3.36am
Schubert, Franz (1797-1828): Rosamunde - incidental music, D797
Finnish Radio Symphony Orchestra
Jukka-Pekka Saraste (conductor)
4.06am
Milhaud, Darius (1892-1974), arr Timothy Kain: Scaramouche
Guitar Trek
4.16am
Albicastro, Henricus (fl.1700-06): Motet: Coelestes angelici chori
Guy de Mey (tenor)
Ensemble 415
Chiara Banchini (conductor)
4.30am
Anon (c.1600-1650): Toccata; Angelus pastoribus
Marek Toporowski (chamber organ)
4.35am
Ward, John (c.1589-1638): Cor mio, deh, non languire
4.38am
Gibbons, Orlando (1583-1625): The Silver Swan
Emma Kirkby (soprano)
The Rose Consort of Viols
4.40am
Wiren, Dag (1905-1986): Violin Sonatina (1939)
Arve Tellefsen (violin)
Lucia Negro (piano)
4.51am
Tobias, Rudolf (1873-1918): Prelude and Fugue in D minor
Estonian National Symphony Orchestra
Arvo Volmar (conductor)
5.01am
Mozart, Wolfgang Amadeus (1756-1791): Overture (Die Zauberflote, K620)
Canadian Opera Company Orchestra
Richard Bradshaw (conductor)
5.08am
Groneman, Albertus (1710-1778): Flute Sonata in D
Jed Wentz, Marion Moonen (flutes)
5.22am
Schutz, Heinrich (1585-1672): Selve beate, se sospirando, SWV3 (Il Primo Libro de Madrigali Venice - 1611)
The Consorte of Musicke
Anthony Rooley (conductor)
5.26am
Suchon, Eugen (1908-1993): Symfonietta Rustica (1954-55) - Pictures from Slovakia
Slovak Philharmonic Orchestra
Ludovit Rajter (conductor)
5.44am
Tulindberg, Erik (1761-1814): Polonaise and Variations
Jorma Rahkonen (violin)
5.48am
Paganini, Niccolo (1782-1840): Polonaise
Viktor Pikajzen (violin)
Evgenia Sejdelj (piano)
5.54am
Mendelssohn, Fanny Hensel (1805-1847): Trio in D minor, Op 11
Trio Orlando
6.19am
Arban, Jean-Baptiste (1825-1889), arr David Stanhope: Fantasy and variations on a Cavatina (Beatrice di Tenda - by Bellini)
Geoffrey Payne (trumpet)
Melbourne Symphony Orchestra
Michael Halasz (conductor)
6.27am
Gorczycki, Grzegorz Gerwazy (c.1665-1734): Litaniae de providential divina (c.1726)
Olga Pasiecznik, Marta Bobertska (soprano)
Piotr Lykowski (countertenor)
Wojciech Parchem (tenor)
Miroslaw Borzynski (bass)
Sine Nomine Chamber Choir
Concerto Polacco
Marek Toporowski (chamber organ/director)
6.39am
Reger, Max (1873-1916): Humoresque in G minor, Op 20 No 5
6.41am
Reger: Intermezzo in E flat minor, Op 45 No 3
6.45am
Reger: Intermezzo in G minor, Op 45 No 5
Max Reger (piano) (recorded on 8th December 1905)
6.48am
Vivaldi, Antonio (1678-1741): Concerto VIII in A minor for two violins, strings and continuo, RV522 (L'Estro Armonico, Op 3)
Paul Wright, Sayuri Yamagata (violins)
Australian Brandenburg Orchestra
Paul Dyer (conductor).