Main content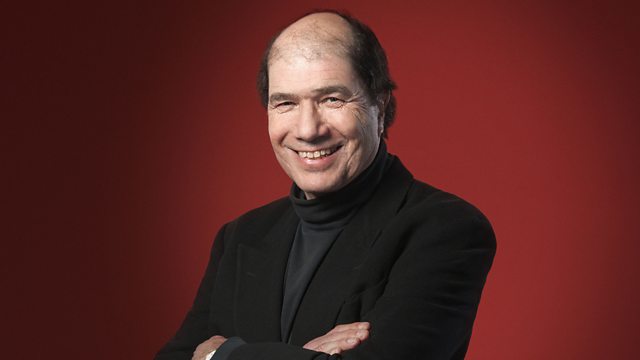 Sam Taylor-Wood
Michael Berkeley meets conceptual artist and film-maker Sam Taylor-Wood.
Michael Berkeley meets Turner Prize-nominated conceptual artist and film-maker Sam Taylor-Wood, whose latest work, Nowhere Boy, documents the early life of John Lennon. Much of her work has been inspired by music, from opera to Bach, and her choices range from the opening of Gluck's opera Orfeo ed Euridice, the Kyrie from Mozart's Requiem and the opening of Beethoven's Ninth Symphony to an Indian raga and Nina Simone singing Wild Is the Wind as well as film scores by Ry Cooder and Michael Nyman.
Sig: M Berkeley: The Wakeful Poet (Music from Chaucer)
Beaux Arts Brass Quintet
(Berkeley/OUP)
Duration: 0m26s
Mozart: Introitus (Requiem in D Minor, KV626)
Marie McLaughlin (soprano)
Bavarian Radio Chorus and Symphony Orchestra
Leonard Bernstein (conductor)
DG 431 041-2 Tr 1
Duration: 6m39s
Ravi Shankar: Prabhati
Ravi Shankar (sitar)
Yehudi Menuhin (violin)
Alla Rakha (tabla)
(Shankar, based on Raga Gunkali)
Menuhin meets Shankar EMI CDC7490702 Tr 1
Duration: 4m06s
Gluck: Ah ! Se intorno a quest'urna funesta (Orfeo ed Euridice)
Orfeo ...... Bernarda Fink (mezzo-soprano)
Rias-Kammerchor
Freiburger Barockorchester
Rene Jacobs (conductor)
HARMONIA MUNDI HMC90174243, CD 1 Tr 2
Duration: 3m18s
John Lennon: Love
Lennon/Lenono Music/BMG Muic Publishing Ltd
The John Lennon Collection PARLAPHONE CDP7915162 Tr 7
Duration: 3m19s
Beethoven: Symphony No 9 in D minor Op 125 (1st mvt - excerpt)
Staatskapelle Berlin
Daniel Barenboim (conductor)
ERATO 4509 94353-2 Tr 1
Duration: 5m25s
Ry Cooder: Paris, Texas (Paris, Texas - film sountrack)
Ry Cooder, Jim Dickinson, David Lindley
(Cooder/Tonopah and Tidewater Music Co BMI)
Original Film Soundtrack WARNER 9252702 Tr 1
Duration: 2m56s
Nina Simone: Wild Is the Wind
Nina Simone (piano/voice)
Rudy Stevenson (guitar)
Lisle Atkinson (bass)
Bobby Hamilton (drums)
(D Tiomkin, N Washington arr Nina Simone, Famous Music Corp)
Work Song (The 60's vol 3) MERCURY 8385452 Tr 8
Duration: 6m58s
Michael Nyman: The Heart Asks Pleasure First (The Piano - film soundtrack)
Michael Nyman (piano)
Nyman/Chester Music Ltd
The Piano VENTURE CDVE919 Tr 4
Duration: 1m33s.