Main content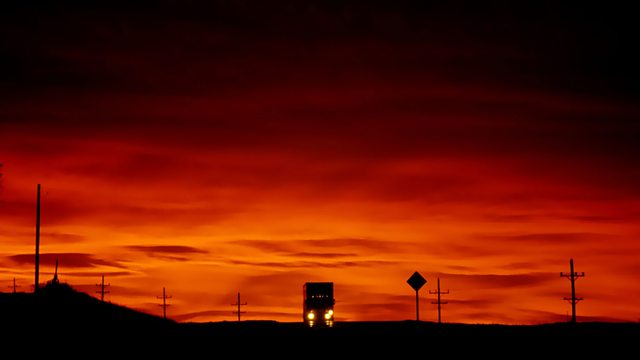 13/12/2009
Susan Sharpe introduces music, including Brahms, Debussy, Dvorak, Bizet, Pez, Gafurius, Mouton, Bach, Durante, Moeran, Melartin, Haydn, Janacek, Elgar, Martucci, Hartmann, Albert.
With Susan Sharpe.
Including:
1.00am
Brahms, Johannes (1833-1897): Four Ballades, Op 10
1.27am
Debussy, Claude (1862-1918): Voiles; Les tierces alternees; Des pas sur la neige; Minstrels (Preludes)
Julien Libeer (piano)
1.42am
Dvorak, Antonin: Piano Quintet in A, Op 81
Julien Libeer (piano)
Jana Vonaskova-Novakova (violin)
Goran Gribajcevic (violin)
Pierre Lenert (viola)
Marie Hallynck (cello)
2.24am
Bizet, Georges (1838-1875): Symphony in C
Norwegian Radio Orchestra
Othmar Maga (conductor)
3.01am
Pez, Johann Christoph (1664-1716): Overture in D minor
Hildebrand'sche Hoboisten Compagnie
3.11am
Gafurius, Franchino (1451-1524): Virgo constans decolatur
3.13am
Mouton, Jean (c1459-1522): James James James - cantus from L'Odhecaton (Venice, 1501)
Ensemble Claude-Gervaise
Gilles Plante (director)
3.15am
Bach, Johann Sebastian (1685-1750): Praeludium and Fughetta in G, BWV902
Andreas Staier (harpsichord)
3.25am
Durante, Francesco (1684-1755): Concerto for strings No 1 in F minor
Concerto Koln
3.39am
Moeran, E(rnest) J(ohn) (1894-1950): Phyllida and Corydon - choral suite (1939)
BBC Singers
Stephen Cleobury (conductor)
4.08am
Debussy, Claude (1862-1918): Children's Corner
Roger Woodward (piano)
4.26am
Melartin, Erkki (1875-1937), arr. Jussi Jalas: Marionettes Suite, Op 1
Jorma Rahkonen (violin)
Karoly Garam (cello)
Finnish Radio Symphony Orchestra
George de Godzinsky (conductor)
4.44am
Haydn, Joseph (1732-1809): Symphony No 4 in D
Slovak Radio Symphony Orchestra Bratislava
Ondrej Lenard (conductor)
4.55am
Janacek, Leos (1854-1928): Pochod modracku (March of the Blue Boys)
Dirk de Caluwe (piccolo)
Josef Hala (piano)
4.57am
Elgar, Edward (1857-1934): Wild Bears (The Wand of Youth Suite No 2, Op 1b)
BBC Philharmonic
Yan Pascal Tortelier (conductor)
5.01am
Martucci, Giuseppe (1856-1909): Noveletta, Op 82 No 2
Oslo Philharmonic
Nello Santi (conductor)
5.07am
Hartmann, Johan Peter Emilius (1805-1900): Deux pieces caracteristiques, Op 25
Nina Gade (piano)
5.21am
Albert, Heinrich (1604-1651): Wer wengen seiner Sunde
Stephan Schreckenberger (bass)
Musica Alta Ripa
Konrad Junghanel (conductor)
5.24am
Albert, Heinrich (1604-1651): Der Tag beginnet zu vergehen - Klage Sions for five voices and basso continuo (Funffter Theil der Arien, Konigsberg, 1642)
Cantus Colln
Musica Alta Ripa
Konrad Junghanel (lute/conductor)
5.28am
Heiller, Anton (1923-1979): Valet will ich dir geben (3 keine Choralvorspiele, 1975)
Wout van Andel (organ - Ludwig Konig 1776 organ, Nijmegen, Grote Kerk/St Stevenskerk)
5.31am
Eijken, Johannes Albert van (1823-1868): Sonate uber den Choral: Befiehl Du deine Wege, Op 13 (1st mvt - Moderato in C minor)
Wout van Andel (organ) (Recorded at the Utrecht National Museum from Musical Clock to Street Organ, formerly Buurkerk)
5.37am
Felix Mendelssohn Batholdy (1809-1847): The Hebrides, Op 26 - overture
Oslo Philharmonic
Arvid Engegard (conductor)
5.48am
Ruppe, Christian Friedrich (1753-1826): Duetto in F
Wyneke Jordans and Leo van Doeselaar (Tomkinson fortepiano of 1815)
5.58am
Frescobaldi, Girolamo (1583-1643): Canzona vigesima seconda detta la Nicolina
Peter Hannan (recorder)
Christel Thielmann (viola da gamba)
Colin Tilney (harpsichord)
6.03am
Wolf-Ferrari, Ermanno (1876-1948): Two orchestral intermezzi (Il Gioielli della Madonna, Op 4)
KBS Symphony Orchestra
Othmar Maga (conductor)
6.13am
Lange-Muller, Peter Erasmus (1850-1926): Tre Madonnasange, Op 65 (1900)
Danish National Radio Choir
Stefan Parkman (conductor)
6.20am
Ravel, Maurice (1875-1937): Piano Concerto in G
Pascal Roge (piano)
New Zealand Symphony Orchestra
Alexander Lazarev (conductor)
6.42am
Duparc, Henri (1848-1933)/text: Francois Coppee (1842-1908): La vague et la cloche; Le manoir de Rosamonde; L'invitation au voyage; La vie anterieure
Gerald Finley (baritone)
Stephen Ralls (piano).