Main content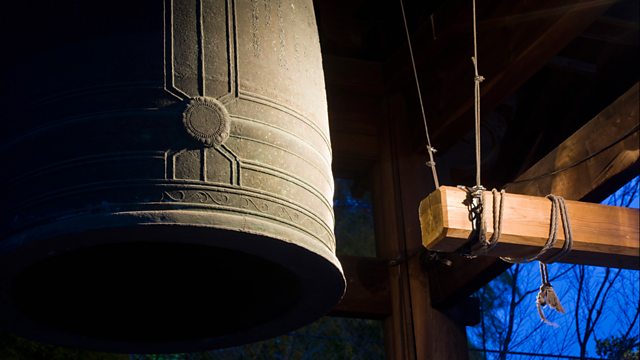 The Great Bell
Using sounds, poems and stories, Stephen Gill depicts bonshou, huge bronze bells which are present in every Buddhist temple in Japan. They are essential to Japanese identity.
When the historian Arnold Toynbee heard the Great Bell of Toudaiji he exclaimed, "That is Japan". Sony-award-winner Stephen Gill captures the physical and symbolic power of tons of suspended bronze and follows the ancient process of manufacturing of a bonshou, the huge bell that every Buddhist temple has.
A bonshu is not hidden in a belfry, but housed in an open wooden tower. They don't have clappers, but are struck by huge tree trunks, suspended from ropes, swung against them from outside. Each Old Year is rung out with 108 booms from every bonshou throughout the land. Each has its own voice and character. Every Japanese person has the right to one strike, which consumes the sins of the old year and purifies them for the new. These great bells are essential to Japanese identity, which, through them, Stephen Gill explores.
We hear the New Year bells, recorded in the city and the countryside. There is the Gion bonshou, which at 30 tons is more than twice the weight of Big Ben. The heaviest in the land is the Rengein bonshou which weighs 37.5 tons. It takes 20 monks to swing the beam to sound it. Ikkou Iwasawa, who runs the foundry where it was made, explains the mystery of creating such huge bells - as one is being cast. The Rev Eishou Kawahara, the head priest of Rengein, whose bonshou can be heard 40 kilometres away, reveals their spiritual meaning, and the impact they have on people.
Stephen Gill has lived in Japan for many years and speaks the language fluently. He weaves haiku poems about them and weaves these into stories and recordings of famous bells.
Producer: Julian May.
Last on
Broadcasts