Main content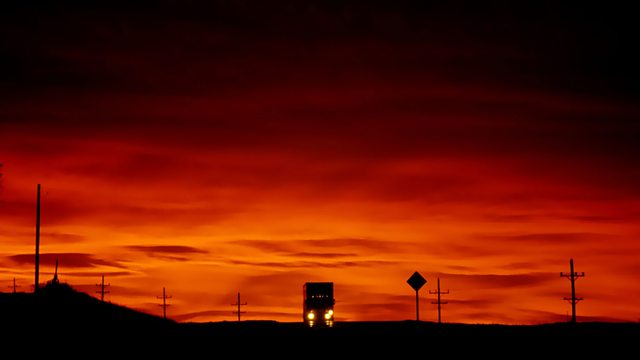 05/12/2009
Music including Schubert, Beethoven, Chopin, Nielsen, Wagner, Respighi, Fontana, Mendelssohn, Kodaly, Handel, Mozart, Milhaud, Vivaldi, Schutz, Ravel, Haydn, Beethoven and Grieg.
Including:
1.00am
Schubert, Franz (1797-1828): Symphony No 5 in B flat, D485
Royal Concertgebouw Orchestra
Leonard Bernstein (conductor)
1.31am
Beethoven, Ludwig van (1770-1827): Mass in C, Op 86
Alison Hargan (soprano)
Carolyn Watkinson (contralto)
Keith Lewis (tenor)
Wout Oosterkamp (bass)
Concertgebouw Orchestra Chorus
Arthur Oldham (director)
Royal Concertgebouw Orchestra
Colin Davis (conductor)
2.20am
Chopin, Fryderyk (1810-1849): Grande Polonaise brillante precedee d'un Andante spianato, Op 22
Lana Genc (piano)
2.35am
Nielsen, Carl (1865-1931): Quintet for flute, oboe, clarinet, horn and bassoon, Op 43
Cinque Venti
3.01am
Wagner, Richard (1813-1883), arr. Mottl: Funf Lieder von Mathilde von Wesendonck
Yvonne Minton (mezzo-soprano)
Netherlands Radio Philharmonic Orchestra
Kurt Masur (conductor)
3.20am
Respighi, Ottorino (1879-1936): Concerto in modo misolidio for piano and orchestra
Olli Mustonen (piano)
Norwegian Radio Orchestra
Markus Lehtinen (conductor)
3.56am
Bacewicz, Grazyna (1909-1969): Serenade for orchestra (1950)
Polish Radio Symphony Orchestra
Jan Krenz (conductor)
4.01am
Fontana, Giovanni Battista (c.1592-1631): Sonata undecima for cornet, violin and bass continuo (Sonata a 123 per il violino, o cornetto, gatotto, chitarone, violoncino o simile altro istromento - Venice, 1641)
Le Concert Brise
4.09am
Mendelssohn, Felix (1809-1847): Laudate Pueri (O praise the Lord)
Ivelina Ivancheva (piano)
Polyphonia
Ivelin Dimitrov (conductor)
4.19am
Kodaly, Zoltan (1882-1967): Adagio (1905)
Morten Carlsen (viola)
Sergej Osadchuk (piano)
4.29am
Handel, George Frideric (1685-1759): Perche viva il caro sposo (Rodrigo, Act 3)
Emma Kirkby (soprano)
Academy of Ancient Music
Andrew Manze (director)
4.36am
Mozart, Wolfgang Amadeus (1756-1791): Symphony No 16 in C, K128
CBC Vancouver Orchestra
Mario Bernardi (conductor)
4.49am
Milhaud, Darius (1892-1974): Scaramouche
James Anagnoson
Leslie Kinton (pianos)
5.01am
Vivaldi, Antonio (1678-1741): Concerto in C for violin, strings and continuo in C, Op 8 No 12
Europa Galante
Fabio Biondi (violin/director)
5.10am
Schutz, Heinrich (1585-1672): Magnificat anima mea Dominum, SWV468
Schutz Akademie (voices and instruments: violins, cornetts, sackbutts and continuo)
Howard Arman (conductor)
5.21am
Smit, Leo (1900-1943): Concertino for cello and orchestra (1937)
Pieter Wispelwey (cello)
Netherlands Radio Chamber Orchestra
Ed Spanjaard (conductor)
5.32am
Ravel, Maurice (1875-1937): Introduction and allegro for harp, flute, clarinet and string quartet
Tinka Muradori (flute)
Josip Nochta (clarinet)
Paula Ursic (harp)
Zagreb String Quartet
5.43am
Haydn, Joseph (1732-1809): Symphony No 11 in E flat
Slovak Radio Symphony Orchestra, Bratislava
Stefan Robl (conductor)
6.02am
Beethoven, Ludwig van (1770-1827): Piano Sonata in A flat, Op 110
Edwin Fischer (piano)
6.22am
Grieg, Edvard (1843-1907): String Quartet No 1 in G minor, Op 27
Yggdrasil String Quartet.