Main content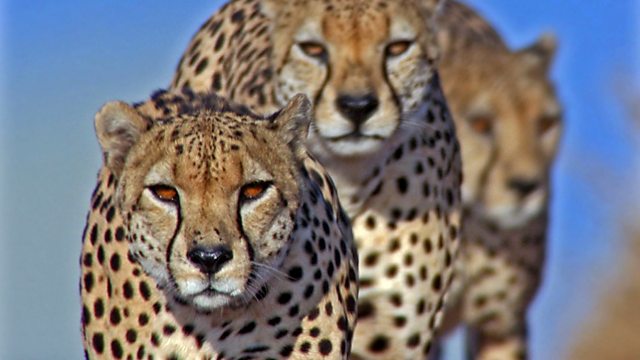 The nature documentary explores mammals' ability to learn new tricks to survive, and features unique footage of a killer whale hunting elephant seal pups.
Mammals' ability to learn new tricks is the key to survival in the knife-edge world of hunters and hunted. In a TV first, a killer whale off the Falklands does something unique: it sneaks into a pool where elephant seal pups learn to swim and snatches them, saving itself the trouble of hunting in the open sea.
Slow-motion cameras reveal the star-nosed mole's newly-discovered technique for smelling prey underwater: it exhales then inhales a bubble of air ten times per second. Young ibex soon learn the only way to escape a fox - run up an almost vertical cliff face - and young stoats fight mock battles, learning the skills that make them one of the world's most efficient predators.
Chapters
Timings (where shown) are from the start of the programme in hours and minutes
Hunters and Hunted

Opening titles

Duration: 00:21

Targets

Cheetahs hunt together to take down a larger victim, and a newborn Ibex must think quickly on its feet if it's to survive. Also, the Greater Bulldog bat catches his prey by surprise.

Duration: 15:22

Learning Young

Skills learnt during infancy helps the stoat overcome the much larger rabbit, and the bottlenose dolphins employ a food catching technique passed down from generation to generation.

Duration: 06:50

Hunting Conditions

Brown bears look to fatten up ahead of winter by catching salmon, and an Ethiopian wolf mother needs the pack's help to feed her pups. Elsewhere, the star-nosed mole senses food with great speed.

Duration: 11:42

Defence

Chital deer avoid a tiger with a little help from the langur monkeys, and the Californian Ground squirrel takes on the smell of a rattle snake to intimidate predators.

Duration: 05:49

Refining Strategies

An Orca whale comes up with a unique way of hunting seals.

Duration: 07:26

Life on Location – Rock Pooling

Two members of the Life crew get up close and personal with elephant seals; although getting too close could jeopardise the integrity of the film.

Duration: 10:44

Credits

| Role | Contributor |
| --- | --- |
| Narrator | David Attenborough |
| Producer | Adam Chapman |
| Series Producer | Martha Holmes |
| Executive Producer | Michael Gunton |

Broadcasts

BBC One

except Northern Ireland

&

BBC HD

BBC HD

&

BBC One

except Northern Ireland