Main content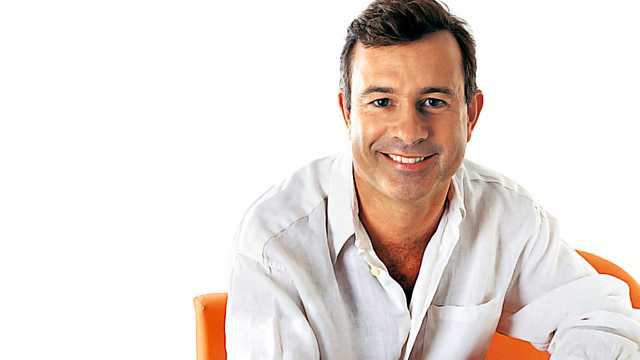 Tuesday - James Jolly
With James Jolly. Includes Vivaldi: Concerto in D minor, RV 540. Scarlatti: Sonatas, K96, K27, K492. Puccini: Madama Butterfly (excpt). Brahms: Symphony No 1. Byrd: Ye sacred Muses.
With James Jolly.
Featuring great performances and classic recordings. Vivaldi and Puccini exploit the singing warmth of the viola d'amore; Gibbons praises and Byrd mourns to the sound of viols.
10.00am
Vivaldi: Concerto in D minor, RV 540
Rosemary Green (viola d'amore)
Hermann Leeb (lute)
Anglian Ensemble
John Snashall (conductor)
PYE GSGC 14041 (LP)
10.13am
Scarlatti: Sonatas - in D, K96; in B minor, K27; in D, K492
Anne Queffelec (piano)
WCJ 5050466-6988-2-7
10.25am
Puccini: Madama Butterfly (excerpt from Act 2)
Butterfly ...... Mirella Freni (soprano)
Suzuki ...... Christa Ludwig (mezzo-soprano)
Vienna State Opera Choral Society
Vienna Philharmonic
Herbert von Karajan (conductor)
DECCA 417 577-2 (3 CDs)
10.44am
The Group of 3 explores English composers' obsession with the 'In nomine' from a mass by John Taverner.
Taverner: Benedictus (Mass: Gloria tibi Trinitas)
Tallis Scholars
Peter Phillips (director)
GIMELL CDGIM 995
Anon: chant (In nomine)
Dowland: Farewell (On the In nomine, P4
Nigel North (lute)
NAXOS 8.557586
Purcell: In nomine a 7, Z747
Fretwork
HARMONIA MUNDI HMU907502
10.57am
Brahms: Symphony No 1, Op 68
Budapest Festival Orchestra
Ivan Fischer (conductor)
CHANNEL CLASSICS CCS SA 28309
11.44am
Gibbons: This is the Record of John
ARCHIV 453 166-2
Tallis: O nata lux de lumine
Byrd: Ye sacred Muses
MUSICAL CONCEPTS MC 195 (6 CDs)
Alfred Deller (countertenor)
Deller Consort
Schola Cantorum Basiliensis Consort of Viols
August Wenzinger (director/treble viol).