Main content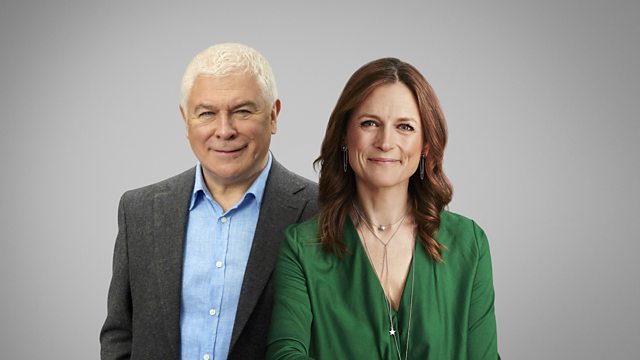 23/11/2009 Jeffrey Skidmore, Ibuki Piano Trio
Presented by Sean Rafferty. With conductor Jeffrey Skidmore on Ex Cathedra's performance of Elgar's Dream of Gerontius. Plus the Ibuki Piano Trio performing Ravel and Haydn.
Sean Rafferty presents a selection of music and guests from the music world.
Conductor Jeffrey Skidmore drops in to the studio to talk about the highlight of Ex Cathedra's 40th anniversary season - a performance of Elgar's Dream of Gerontius.
Plus the young and dynamic Ibuki Piano Trio performing music by Ravel and Haydn.
17:02
WALDTEUFEL
L'Estudiantina - waltz, Op.191
Monte Carlo Philharmonic Orchestra
Willi Boskovsky (conductor)
EMI 585066 2
Track 23
6:51
17:10
SCHUBERT
Der musensohn, D.764
Elisabeth Soderstrom (soprano)
Paul Badura-Skoda (fortepiano)
ASTREE E 7783
Track 6
2:04
17:14
LIVE
RAVEL
Trio: 1st movement
Ibuki Piano Trio
9:10
17:31
LIVE
HAYDN
Trio in E flat Hob XV:30 (3rd movement: Presto)
Ibuki Piano Trio
2'56
17:35
VAUGHAN WILLIAMS
Five Variants of 'Dives and Lazarus'
London Symphony Orchestra
Richard Hickox (conductor)
CHANDOS CHAN 9593
Track 6
10:31
17:46
GRIEG
With a primrose, Op.26 no.4
Elisabeth Söderstrom (soprano)
Martin Isepp (piano)
BBC LEGENDS BBCL4132 2
Track 3
1:49
17:53
STRAUSS
Four Last Songs: Fruhling
Elisabeth Söderstrom (soprano)
Royal Concertgebouw Orchestra
RCO LIVE BOX SET
Track
3:07
17:56
MUFFAT
Sonata no.1 in D major (minuet)
Armonico Tributo
Roy Goodman and Peter Holman (directors)
HELIOS CDH55191
Track 4
1:37
18:03
BIZET/HOROWITZ
Carmen Variations
Arcady Volodos (piano)
SONY SK 62691
Track 1
3:34
18:07
CHABRIER
Lied
Felicity Lott (soprano)
Graham Johnson (piano)
HYPERION CDA 66937
Track 17
2:36
18:10
BACH
Partita in A minor, orig. B minor BWV.1002 (Corrente)
Nigel North (lute)
LINN CKD 300
CD 1,track 6
5:08
18:16
ELGAR
Dream of Gerontius (Praise to the holiest)
Royal Liverpool Philharmonic Choir & Orchestra
Huddersfield Choral Society
Vernon Handley (conductor)
EMI CDB 565019 2
CD 2, track 10
6:34
18:30
ELGAR
Dream of Gerontius (Softly and gently - excerpt)
Margaret Balfour (mezzo-soprano)
Royal Albert Hall Orchestra
conducted by the composer
EMI CDS 754560 2
CD 3, track 8
2:32
18:37
MENDELSSOHN
Elijah (For he shall give his angels)
Ex Cathedra
Jeffrey Skidmore (conductor)
Andrew Fletcher (organ)
ORCHID CLASSICS ORC 100008
Track 11
2:35
18:41
HAYDN
String Quartet in B flat, Op.50 no.1 (Finale: Vivace)
Doric String Quartet
WIGMORE LIVE WHL 0032
Track 13
4:52
18:48
ROUSSEL
Symphony no.1 (1st movement 'Foret d'hiver')
Royal Scottish National Orchestra
Stephane Deneve (conductor)
NAXOS 8 570323
Track 1
5:27
18:54
KAPSBERGER
Libro Primo (Toccata)
La Nuova Musica
David Bates (director)
SOMMCD083
Track 10
2:16
18:56
MONTEVERDI
Perfidissimo Volto
La Nuova Musica
David Bates (director)
SOMMCD083
Track 11
2:16.