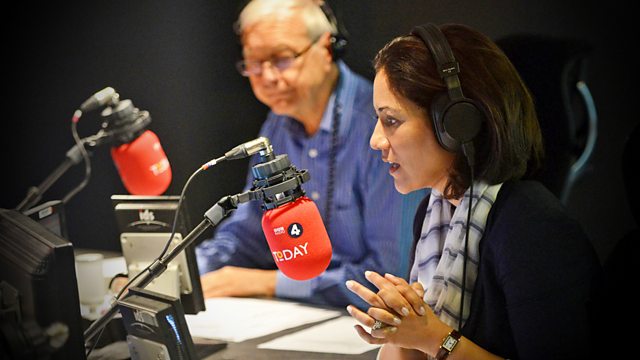 26/11/2009
Presented by James Naughtie and Sarah Montague.
India is marking the first anniversary of the Mumbai attacks which killed 170 people. Ten gunmen attacked the city in a terror strike that lasted nearly three days. Yesterday a court in Pakistan charged seven suspects in connection with the attacks, including Zaki Ur Rehman Lakhvi, thought to be the mastermind and an operative of the Lashkar-e-Taiba group. Security correspondent Gordon Corera examines relations between India and Pakistan.
Health secretary Andy Burnham is to make a speech on the provision of talking therapies. Yesterday the Today programme heard from GPs complaining of a shortage of such therapies. Home editor Mark Easton comments on the upcoming speech.
A new right-of-centre think-tank is launched today. ResPublica will join the array of Tory-leaning think-tanks battling to influence Conservative policy. Comparisons have been drawn with the 1970s, when it is claimed that Margaret Thatcher's monetarist policies were shaped by the Centre for Policy Studies. Political correspondent Norman Smith investigates whether or not right-wing think-tanks are influential.
An environmental charity has warned that guidance on how planning authorities assess the potential impact of wind turbine noise must be urgently updated. Environmental Protection UK says the noise generated by the turning blades is affecting those living nearby, and that guidelines were due to be revised 11 years ago. Environment correspondent Sarah Mukherjee reports from Camber Sands in Sussex.
A report into the corporate governance of the banking industry is to be published today. Sir David Walker, author of the report and a former banker, conducted the review in response to City bonuses. Sir David discusses his recommendations.
The Scottish question is once more at the forefront of UK politics, with proposals being considered to increase the Scottish Parliament's tax powers. Next week Scotland's first minister, Alex Salmond, will publish a white paper for a Referendum Bill on independence. Today presenter James Naughtie analyses the different strands of Scotland's on-going debate on constitutional reform.
Thought for the Day with Professor Mona Siddiqui, from the University of Glasgow.
Fifteen cities are to present their case for joining England's 2018 football World Cup bid. Bristol, Portsmouth and Milton Keynes are among the hopefuls. The effort is being overshadowed by infighting on the board, and several members have resigned. Sports correspondent James Pearce outlines the internal disagreements, and board member Paul Elliot discusses the bid.
Water companies and industry regulator Ofwat are engaged in discussions over the future pricing of water. They advise that bills should be reduced by 2015, but water companies insist bills need to rise to pay for improvements and repairs, warning that jobs will be lost. Business presenter Adam Shaw examines the discussions and Pamela Taylor, chief executive of Water UK, discusses water pricing.
The Department of Health previously considered calling for a cull of Britain's sheep and cow stocks to combat climate change, it has emerged. It considered killing livestock to cut methane emissions and reduce the amount of fatty food. Deputy political editor James Landale discusses the proposals.
How has the life of a postman changed? Postman and blogger Roy Mayall has written Dear Granny Smith: A Letter From Your Postman, a polemic on what has changed at Royal Mail. He claims the company has changed services for the worse, and pleads for the return of the old-style delivery. Roy Mayall and management consultant David Stubbs debate how best to run the postal service.
David Cameron is to speak at the launch of a new think tank, ResPublica. Its director, Philip Blond has been described as 'the red Tory'. Mr Blond discusses the new organisation.
Plans to give new tax-raising powers to the Scottish Parliament have been outlined by the UK government in response to the Calman Commission's review into Scottish devolution. The proposals come a few days before Scottish first minister Alex Salmond is to publish proposals for a Referendum Bill on independence. Constitution minister Mike Russell examines the devolution proposals.
India's conservative Muslim seminary has banned the singing of India's national anthem, declaring it un-Islamic. The fatwa posed by Deoband has polarised a nation struggling to remain united, and places the onus for unity on India's liberal Muslims. Correspondent Chris Morris reports from Delhi and Salman Kurshid, India's Union minister of state for minority affairs, discusses the Deoband's objection to the song.
Filmmaker and Iranian opposition activist Mohsen Makhmalbaf is in London to receive the 2009 Freedom to Create Prize. He dedicated it to Grand Ayatollah Montazeri, who has become the spiritual leader of the Iranian opposition. Mr Makhmalbaf discusses growing dissent in Iran.
Financial markets were s
Last on