Main content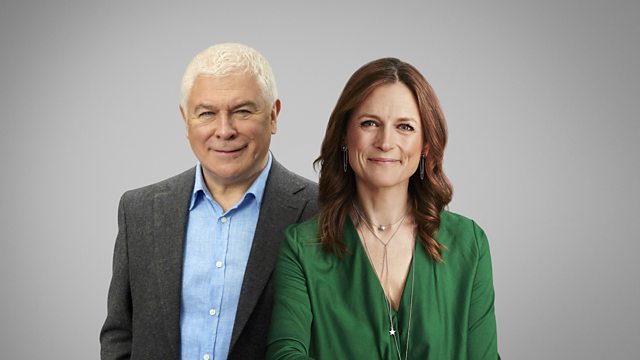 19/11/2009 Francesca Zambello, Alastair Marriott, Rivka Golani
Presented by Sean Rafferty. Director Francesca Zambello, with choreographer Alastair Marriott discuss Tchaikovsky's The Tsarina's Slippers, and viola player Rivka Golani performs.
Sean Rafferty presents a selection of music and guests from the arts world.
Director Francesca Zambello and choreographer Alastair Marriott talk about a new production of Tchaikovsky's rarely-performed opera The Tsarina's Slippers at the Royal Opera House.
And viola player Rivka Golani along with the event's director Anthony Wilkinson talk about the newly-established Wimbledon Music Festival.
17.02
PURCELL
Abdelazer (Overture)
Academy of Ancient Music
Christopher Hogwood (director)
Oiseau-Lyre 433 191 2
Track 8
3'15
17.06
KREISLER
Liebesfreud
Rivka Golani (viola)
Michele Levin (piano)
HCD 32645
Track 4
3'32
17.10
TCHAIKOVSKY
The Tsarina's Slipper: Cossack Dance (Act III)
Cagliari Teatro Lirico Orchestra
Gennadi Rozhdestvensky (conductor)
Dynamic CDS287
CD 3,Track 9
3'12
17.21
TCHAIKOVSKY
The Tsarina's Slipper: A little apple tree was blossoming in the garden … (Act I)
Elaterina Morosova (Oksana)
Cagliari Teatro Lirico Orchestra
Gennadi Rozhdestvensky (conductor)
Dynamic CDS287
CD 1,Track 5
6'26
17.32
TCHAIKOVSKY
The Tsarina's Slipper: Finale
Cagliari Teatro Lirico Chorus & Orchestra
Gennadi Rozhdestvensky (conductor)
Dynamic CDS287
CD 3, Tracks 14
2'16
17'35
MOZART
Fantasia in D minor, KV 397
Mitsuko Uchida (piano)
Philips 412 123-2
Track 7
7'12
17.43
SMETANA
Vltava (Ma Vlast)
Cleveland Orchestra
Christoph von Dohnanyi (conductor)
Decca 444 867 2
Track 1
11'38
17.56
D. SCARLATTI
Iste confessor
The Sixteen
Harry Christophers (conductor)
Coro COR16073
Track 4
3'15
18.03
SULLIVAN
Pineapple Poll: Opening Dance
Royal Liverpool Philharmonic Orchestra
David Lloyd-Jones (conductor)
Naxos 8.570351
Track 1
3'27
18.07
GIOVANNI BENEDETTO PLATTI
Concerto in G minor "per Oboe"
Xenia Loffler (oboe)
Akademie fur Alte Musik Berlin
Georg Kallweit (violin / director)
Harmonia Mundi HMC 901996
Tracks 14-16
11'22
18.19
LIVE MUSIC
PROKOFIEV transcribed by Borisowski
Dance of the Knights (Romeo & Juliet)
Rivka Golani (viola)
Michael Hampton (piano)
5'31
18.31
LIVE MUSIC
RACHMANINOV transcribed by Borisowski
Cello Sonata in G minor (3rd movement: Andante)
Rivka Golani (viola)
Michael Hampton (piano)
6'19
18.45
BERLIOZ
Harold in Italy (1st movement – extract)
Rivka Golani (viola)
San Diego Symphony Orchestra
Yoav Talmi (conductor)
Naxos 8.553034
Track 3
7'46
18.56
PURCELL, realised by Tippett
An evening hymn
John Mark Ainsley (tenor)
Iain Burnside (piano)
Signum SIGCD066
Track 11
3'52