Main content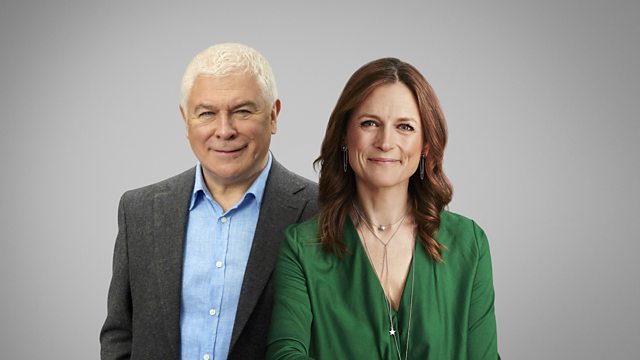 18/11/2009 Regina Carter, Genevieve Lacey, Sarah Nicolls
Presented by Sean Rafferty. With jazz violinist Regina Carter, and recorder player Genevieve Lacey and violinist Sarah Nicolls, from 2009's Huddersfield Comtemporary Music Festival.
Sean Rafferty presents a selection of music and guests from the music world.
Jazz violinist Regina Carter talks to Sean ahead of her performance at the 2009 London Jazz Festival.
Plus Huddersfield Contemporary Music Festival director Graham McKenzie talking about the 2009 line-up, along with with performances from Genevieve Lacey (recorder) and Sarah Nicolls (piano).
17:02
SAINT SAËNS
Marche militaire française
Detroit Symphony Orchestra
Paul Paray [conductor]
MERCURY 434 332-2
Track 3
3:43
17:07
PURCELL
Dido's Lament
Barbara Bonney [soprano]
Academy of Ancient Music
Christopher Hogwood
DECCA 466 132-2
Track 17
4:34
17:13
BEETHOVEN
Piano Concerto No 2 Op 19 in B flat major (Final movement)
Tiill Felner [piano]
The Academy of St Martin in the Fields
Sir Neville Marriner [conductor]
ERATO 4509 98539-2
Track 6
6:06
17:22
GERSHWIN
Lady be good
Regina Carter [violin]
Werner "Vana" Gierig [piano]
Peter Washington [bass]
Lewis Nash [drums]
VERVE 547 177-2
Track 1
6:27
17:31
REGINA CARTER
N'Teri
Regina Carter [violin]
PRIVATE TAPES
2:12
17:37
DEBUSSY
Rêverie
Regina Carter [violin]
Werner "Vana" Gierig [piano]
Chris Lightcap [bass]
Alvester Garnett [drums]
VERVE 065 554-2
Track 5
4:12
17:42
DUKAS
The Sorcerer's Apprentice
Rotterdam Philharmonic Orchestra
David Zinman [conductor]
DECCA 478 1738
CD 4, tack 5
9:34
17:54
NED ROREM
Jeanie with the Light Brown Hair - Jacques Imbrailo [tenor]
Catullus: On the burial of his brother - Andrew Staples [tenor], Alisdair Hogarth [piano]
LINN CKD 342
Tracks 6 & 8
4:50
18:03
HANDEL
Let thy hand be strengthened
Choir of Kings College Cambridge
The Academy of Ancient Music
Stephen Cleobury (conductor)
EMI 7243 5 57140 2 2
Tracks 4-6
7:31
18:11
THOMAS ARMSTRONG
Sinfonietta for small orchestra
London Philharmonic Orchestra
Paul Daniel (conductor)
CHAN 9657
Track 2
6:49
18:18
FRED RZEWSKI
Theme from six variations on 'The People United will never be Defeated!'
Fred Rzewski [piano]
NONESUCH 79623-2
CD 6,track 40
2:47
18:25
LIVE with DVD accompaniment
MICHEL VAN DER AA
Transit
Sarah Nicolls [piano] (& soundtrack to film)
Private tapes
4:26
18:39
LIVE
JOHN SURMAN
In the distance
Genevieve Lacey [recorder]
3:18
18:42
HAYDN
Symphony No 69 in C major H1/69 – 1st movement
Stuttgart Chamber Orchestra
Dennis Russell Davies
SONY 88697443312-22
CD 22, track 9
8:15
18:52
GRAINGER
Brigg Fair
Monteverdi Choir
English Country Gardiner Orchestra
John Eliot Gardiner
PHILIPS 446 657 2
Track 2
3:05
18:55
HOAGY CARMICHAEL
Skylark
Richard Rodney Bennett [piano/vocals]
Jeremy Brown [bass]
Matt Skelton [drums]
Stan Sulzman [alto sax]
Andrew Haveron [violin]
Steve Morris [violin]
Roger Chase [viola]
Ben Lasserson [cello]
BLACK BOX BBJ2018
Track 11
4:10
Music Played
LIVE with DVD accompianment

LIVE