Main content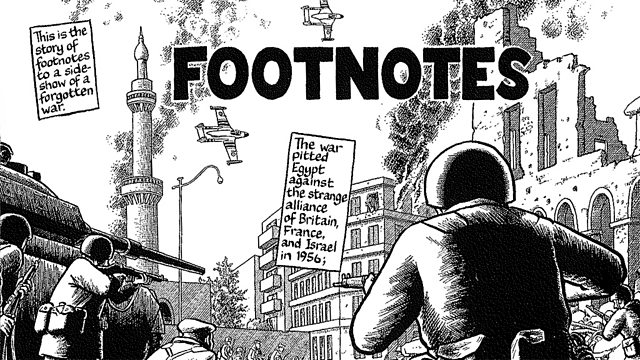 19/11/2009
Arts news and reviews with Kirsty Lang. Ian Rankin on writing a graphic novel; Irish rock band Ash's A to Z of touring.
Paranormal Activity is a ghost horror film, shot in seven days, Blair Witch-style, on a hand-held camera, in director Oren Peli's own home. A couple is haunted by a nightly presence that may or may not be demonic. Antonia Quirke reviews.
Comic books have traditionally been dominated by superheroes but a growing number of artists and writers are using the medium as a form of journalism or to explore new ideas. From the life of Bertrand Russell to political activism in China and life in Gaza, the comic book is taking on new shapes and becoming more popular. Kirsty Lang is joined by Dave McKean, Apostolos Doxiadis, Ian Rankin and Joe Sacco to discuss the power of the comic book and the relationship between image and text.
'I intended to just write a slick little thriller' Attica Locke said about her debut novel, Dark Water Rising, but it also tackles big themes of American race relations and the civil rights movement. The story is set in Houston in 1981 and focuses on a disillusioned black lawyer struggling to achieve material success while weighed down by a past as a civil rights worker. Attica was named after the 1971 prison rising and both her parents were civil rights activists.
The rock band Ash are coming to the end of their 26-date UK tour to promote their A-Z Singles Collection. Having started out in Aldershot, followed by Bradford, Carlisle and Dundee, tonight the band has made it to W in the alphabet. Lead singer Tim Wheeler talks to Kirsty Lang from Worcester before wrapping up the tour in Exmouth, Yeovil and Zennor.
Chapters
Paranormal Activity (Film Review)

Paranormal Activity is a ghost horror film, shot in seven days, Blair Witch-style, on a hand-held camera, in director Oren Peli's own home. Antonia Quirke reviews.

Duration: 04:45

Black Water Rising

Author Attica Locke discusses her debut novel.

Duration: 07:55

Comic Books

Comic books have traditionally been dominated by superheroes but a growing number of artists and writers are using the medium as a form of journalism or to explore new ideas.

Duration: 10:55

Ash's Alphabetical Tour

Lead singer Tim Wheeler talks to Kirsty Lang about the band Ash's 26-date UK tour to promote their A-Z Singles Collection.

Duration: 04:24