Main content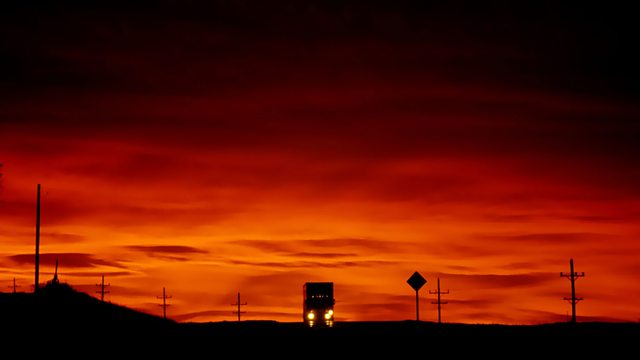 16/11/2009
Music including Puccini's La boheme, plus Ravel, Bach, Mozart, Eno, Brahms, Mokranjac, Ibert, Sandstrom, Stanley, CPE Bach, Saint Saens, Liszt, Rachmaninov, Francaix and Beethoven.
Including:
1.00am
Puccini, Giacomo (1858-1924): La boheme (concert version)
Rodolfo ...... Milen Bojkov (tenor)
Mimi ...... Julia Haiet (soprano)
Musetta ...... Irina Haralampieva (soprano)
Marcello ...... Krasen Karagyozov (baritone)
Schaunard ...... Biser Georgiev (baritone)
Colline ...... Nikolai Bikov (bass)
Benoit, Alcindoro ...... Stoil Georgiev (bass)
Parpignol ...... Dimitar Dimitrov (tenor)
Bulgarian National Radio Mixed Chorus
Bulgarian National Radio Children's Chorus
Bulgarian National Radio Symphony Orchestra
Metodi Matakiev (conductor)
2.54am
Anon (18th century): Pastorella in D; Aria in D
Ljerka Ocic (organ)
Stanko Arnold (trumpet)
3.01am
Ravel, Maurice (1875-1937): String Quartet in F
Bartok Quartet
3.29am
Bach, Johann Sebastian (1685-1750): Toccata, Adagio and Fugue in C, BWV564
David Sanger (organ)
3.45am
Mozart, Wolfgang Amadeus (1756-1791): Sinfonia concertante in E flat for violin, viola and orchestra, K364
Oyvind Bjora (violin)
Ilze Klava (viola)
Bergen Philharmonic Orchestra
Mihail Jurowski (conductor)
4.15am
Kuhlau, Friedrich (1786-1832): Sonata in F, Op 52 No 1
Folmer Jensen (piano)
4.26am
Eno, Brian (b.1948), arr. Julia Wolfe: Music for Airports 1/2 (1978)
Bang on a Can All-Stars
4.38am
Brahms, Johannes (1833-1897): Intermezzo in A, Op 118 No 2
Jane Coop (piano)
4.44am
Mokranjac, Stevan (1856-1914): Fifteenth Song-Wreath (Songs from Macedonia)
RTV Belgrade Choir
Mladen Jagust (conductor)
4.52am
Ibert, Jacques (1890-1962): Trois Pieces Breves
Galliard Ensemble
5.01am
Traditional Swedish (before 1800): Ack Varmeland, du Skona, du harliga land (Oh Varmeland so beautiful)
Young Danish String Quartet
Danish National Symphony Orchestra/DR
Thomas Dausgaard (conductor)
5.05am
Sandstrom, Sven-David (b.1942): En ny himmel och en ny jord (A new heaven and a new earth) - for a capella chorus
Chamber Choir AVE
Andraz Hauptman (conductor)
5.14am
Mozart, Wolfgang Amadeus (1756-1791): Rondo in B flat for violin and orchestra, K269
Benjamin Schmid (violin)
Danish Radio Concert Orchestra
Adam Fischer (conductor)
5.21am
Stanley, John (1712-1786): Organ Concerto in C minor
John Toll (organ)
London Baroque
5.32am
Bach, Carl Philipp Emanuel (1714-1788): Sonata in A minor, Wq 49 No 1
Andreas Staier (harpsichord after Christian Zell, Hamburg 1728, made by Bruce Kennedy, Chateau d'Oex, 1987)
5.47am
Saint-Saens, Camille (1835-1921) arr R Klugescheid: My Heart at Thy Sweet Voice (Samson and Delilah)
Moshe Hammer (violin)
Tsuyoshi Tsutsumi (cello)
William Tritt (piano)
5.51am
Liszt, Franz (1811-1886): (Les) Preludes - symphonic poem after Lamartine, S97
Orchestre National de France
Riccardo Muti (conductor)
6.09am
Rachmaninov, Sergei (1873-1943): Rhapsody on a Theme of Paganini for piano and orchestra, Op 43
Nikolay Evrov (piano)
Bulgarian National Radio Symphony Orchestra
Vassil Stefanov (conductor)
6.33am
Francaix, Jean (1912-1997): 11 Variations on a Theme by Haydn, for nine wind instruments and double bass (1982)
Members of Danish Radio Concert Orchestra
Hannu Koivula (conductor)
6.45am
Beethoven, Ludwig van (1770-1827): Five Scottish and Irish Folksongs, WoO 152/20
Stephen Powell (tenor soloist in No 1)
Lorraine Reinhardt (soprano soloist in No 3)
Linda Lee Thomas (piano)
Gwen Thompson (violin)
Eugene Osadchy (cello)
Vancouver Chamber Choir
Jon Washburn (conductor).