Main content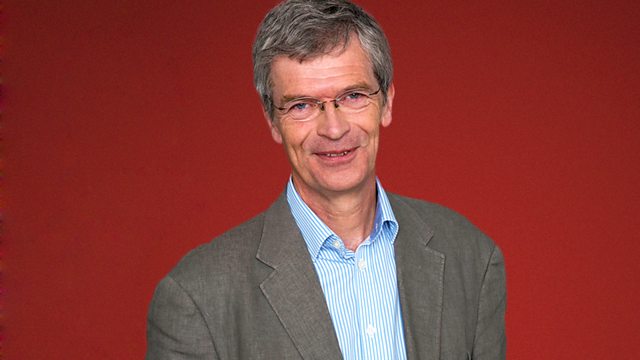 14/11/2009
Geoffrey Smith presents a selection of listeners' jazz requests. Email jazz.record.requests@bbc.co.uk.
Jazz Record Requests
Presented by Geoffrey Smith
Saturday 14 November 2009 5pm–6pm
JRR Signature Tune:
Oh, but on the Third Day (Happy Feet Blues) (Wynton Marsalis)
Performed by Wynton Marsalis (tp), Marcus Roberts (p), Todd Williams (ts), Dr Michael White (cl), Danny Barker (bj), Teddy Riley (tp), Freddie Lonzo (tb), Reginald Veal (b), Herlin Riley (d)
Recorded 28 October 1988
Taken from the album The Majesty of the Blues
1989 CD (CBS 465129 2)
Three Sisters (John Scofield) (5:39)
Performed by John Scofield (g) David Livolsi (b) Eric Kalb (d) Johnny Durkin (congas) Johnny Alemandra (perc)
Recorded 1999, New York
Taken from the album Bump
2000 CD (Verve 5434302(1) Track 1)
Tune Up (Miles Davis) (5:44)
Performed by Sonny Rollins (ts) Wynton Kelly (p) Doug Watkins (b) Philly Joe Jones (d)
Recorded 22 September 1957, New Jersey
Taken from the album The Best of Sonny Rollins
1989 CD (Blue Note CDP7932032(1); Track 5)
Everything Happens to Me (Thomas Adair, Matt Dennis) (3:52)
Performed by Paul Motian (d) Chris Potter (sax) Larry Grenadier (b) Rebecca Martin (vocals)
Recorded 21-23 November 2005 at Avatar Studios, New York
Taken from the album On Broadway vol. 4, or the paradox of continuity
2006 CD (Winter & Winter 910 125-2. Track 7)
I'm All Right (Becker, Klein, Peyroux) (3:25)
Performed by Madeleine Peyroux (Vocals, Acoustic Guitar) Dean Parks (g) David Piltch (b) Jay Bellerose (d) Sam Yahel (Keyboards)
Recorded 2006
Taken from the album Half the Perfect World
2006 CD (Emarcy/Rounder 0602517032798; Track 1)
Boat to Islay (Steele) (4:23)
Performed by Stu Richie (d) Rory Campbell (pipe/whistle) Aidan O'Rourke (fiddle) Catriona MacDonald (fiddle) Aidan O'Donnell (b) Su-a Lee (cello) Dave Milligan (p) Mairi Campbell (fiddle/viola) Colin Steele (tp) Phil Bancroft (s)
Recorded 2008
Taken from the album Stramash
2009 CD (Gadgemo Records. GAD001CD. Track 5)
Jeepers Creepers (Mercer, Warren) (3:04)
Performed by Cleo Laine and her Orchestra: Eddie Blair (tp) Ken Wray (tb) Dougie Robinson (as) Tommy Whittle (ts) Ronnie Ross (bs) Max Harris (p) Sammy Stokes (b) Eddie Taylor (d) John Dankworth (arr)
Recorded 13 December 1955, London
Taken from the album Spread a Little Happiness
CD (Avid AMSC854(2); Disc 2, Track 9)
Lonnie's Lament (John Coltrane) (5:37)
Performed by Marcus Miller (bass guitar, bass clarinet, drum programming, organ, guitar, synths, tenor sax) Hubert Laws (flute solo) Branford Marsalis (soprano sax solo) Lenny White (brush fills) Leroy 'Scooter' Taylor (bas synth) Kenny Garrett (as) Michael 'Patches' Stewart (tp) Larry Corbett (cello)
Recorded 2001
Taken from the album M²
2001 CD (Dreyfus FDM366232(1); Track 2)
Leaving Again/In the Wee Small Hours (Keith Jarrett, Kurt Elling) (4:58)
Performed by Kurt Elling (v) Laurence Hobgood (p)
Recorded 2007
Taken from the album Nightmoves
2007 CD (Concord Jazz 8807230138; Track 9)
Una Muy Bonita (Ornette Coleman) (6:23)
Performed by Joe Henderson (ts) Bobby Hutcherson (vb) McCoy Tyner (p) Herbie Lewis (b) Billy Higgins (d)
Recorded 1966
Taken from the album Stick Up!
LP (Blue Note BST 84244. S1/1)
And on the third day (Mike Gibbs) (8:03)
Performed by Mike Gibbs and Tanglewood 63: Gordon Beck (keys) Chris Pyne (tb) John Surman (sax) Jack Bruce, Brian Odges, Roy Babbington (electric bass) Kenny Wheeler(tp) John Marshall (d) Chris Spedding electric and acoustic guitar) Mike Gibbs
Recorded 10 & 12 November and 2 & 23 December 1970
Taken from the album Michael Gibbs Tanglewood 63
2005 CD (Vocalion CDLK 4253. Disc 1, Track 8)
Don't forget, you can have your say on today's programme, or any aspect of jazz, by visiting the Jazz Messageboard.
The BBC is not responsible for the content of external internet sites.