Main content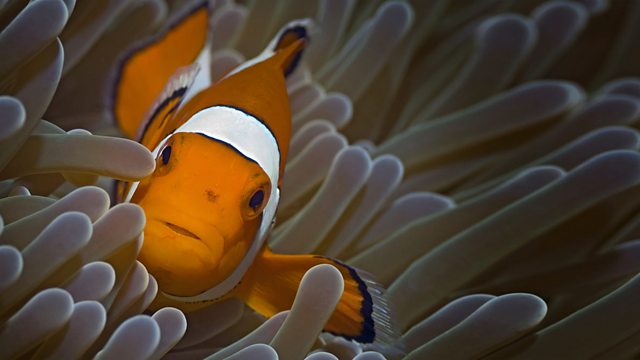 Nature documentary looking at the fish that dominate the planet's waters through their variety of shapes and behaviours, some like creatures from a fairytale.
Fish dominate the planet's waters through their astonishing variety of shape and behaviour.
The beautiful weedy sea dragon looks like a creature from a fairy tale, and the male protects their eggs by carrying them on his tail for months. The sarcastic fringehead, meanwhile, appears to turn its head inside out when it fights.
Slow-motion cameras show the flying fish gliding through the air like a flock of birds and capture the world's fastest swimmer, the sailfish, plucking sardines from a shoal at 70 mph. And the tiny Hawaiian goby undertakes one of nature's most daunting journeys, climbing a massive waterfall to find safe pools for breeding.
Last on
Chapters
Timings (where shown) are from the start of the programme in hours and minutes
Fish

Opening Titles

Duration: 00:18

Speed

Speed and precision are key skills the sailfish must use if it's to catch its prey.

Duration: 03:29

Creating Life

Flying fish not only have to protect themselves, but also thousands of their eggs. Also, the male weedy sea dragon must take the female's eggs to look after.

Duration: 09:11

Home

The young convict fish seem to help their parents feed in exchange for a place to stay, and the sarcastic fringehead must fight off trespassers on his patch.

Duration: 06:23

Leaving the Ocean

Certain fish can actually leave the water; these include the mudskipper, which can breathe oxygen, and the goby, which tries to suck its way up a waterfall so it can lay eggs.

Duration: 09:04

The Odd Couples

Some fish form a bond with the unlikeliest creature and the Jack fish bothers the shark in order to get clean. Also, male clown fish must be wary of the female as well as predators.

Duration: 10:42

Working as a Team

A shoal of anchovies come together as one to outwit a sea lion and snappers try to spawn in mass numbers.

Duration: 08:31

Life on Location - Fish Out of Water

A closer look at the making of Life, including how the cameramen filmed under water with a limited amount of air whilst trying to avoid getting caught up in the action.

Duration: 10:43

Credits

| Role | Contributor |
| --- | --- |
| Narrator | David Attenborough |
| Producer | Adam Chapman |
| Executive Producer | Michael Gunton |

Broadcasts

BBC One

except Northern Ireland

&

BBC HD

BBC One

except Northern Ireland, Scotland & Wales

Featured in...

A collection of programmes exploring the hidden wonders of our aquatic landscapes.