Main content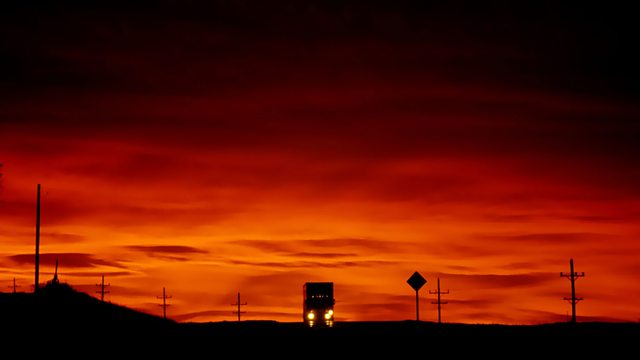 13/11/2009
Music including Mozart, Shostakovich, Mendelssohn, CPE Bach, Janacek, Matusic, Berio, Francaix, Albicastro, Lukacic, Villa Lobos, Saint Saens, Ravel, Strauss, J Strauss II, Rameau.
Including:
1.00am
Mozart, Wolfgang Amadeus (1756-1791): String Quartet in C, K465 (Dissonance)
1.28am
Shostakovich, Dimitri (1906-1975): String Quartet No 7 in F sharp minor, Op 108
1.41am
Dbussy, Claude (1862-1918): String Quartet in G minor, Op 10
Silvestri Quartet
2.05am
Mendelssohn, Felix (1809-1847): Symphony No 4 in A, Op 90 (Italian)
Oslo Philharmonic
Nello Santi (conductor)
2.36am
Bach, Carl Philipp Emanuel (1714-1788): Concerto in D minor for flute and strings, Wq 22
Martin Michael Koffer (flute)
Slovenicum Chamber Orchestra
Uros Lajovic (conductor)
3.01am
Janacek, Leos (1854-1928): Taras Bulba - rhapsody for orchestra
Ukrainian Radio Symphony Orchestra
Volodymyr Sirenko (conductor)
3.24am
Matusic, Frano (b.1961): Two Croatian Folksongs
Dubrovnik Guitar Trio
3.31am
Berio, Luciano (1925-2003): Folk Songs (1964) for mezzo-soprano and seven players
Jean Stilwell (mezzo-soprano)
Canadian Chamber Ensemble
Raffi Armenian (conductor)
3.55am
Francaix, Jean (1912-1997): Serenade for small orchestra
Canadian Chamber Ensemble
Raffi Armenian (conductor)
4.04am
Albicastro, Henricus (fl.1700-06): Trio Sonata, Op 8 No 11
Ensemble 415
Chiara Banchini (conductor)
4.16am
Chopin, Fryderyk (1810-1849): Waltz in A flat for piano, Op 34 No 1
Zoltan Kocsis (piano)
4.22am
Lukacic, Ivan (1587-1648): Quam pulchra es; Quemadmodum desiderat; Panis angelicus (Sacrae Cantiones) - motets
Pro Cantione Antiqua
4.36am
Palmgren, Selim (1878-1951): Exotic March
Finnish Radio Symphony Orchestra
George de Godzinsky (conductor)
4.41am
Sarasate, Pablo de (1844-1908): Romanza Andaluza, Op 22
Moshe Hammer (violin)
Valerie Tryon (piano)
4.47am
Villa-Lobos, Heitor (1887-1959): Bachiana Brasileira No 9 for string orchestra
Amadeus Polish Radio Chamber Orchestra in Poznan
Agnieszka Duczmal (conductor)
4.56am
Pachelbel, Johann (1653-1706) (text Psalm 85/5-10): Troste uns Gott unser Heiland - motet
Cantus Colln
5.01am
Saint-Saens, Camille (1835-1921): Saltarelle, Op 74 (Emile Deschamps)
Lamentabile Consort:
Jan Stromberg, Gunnar Andersson (tenors)
Bertil Marcusson (baritone)
Olle Skold (bass)
5.07am
Parac, Frano (b.1948): Sarabande for orchestra
Zagreb Philharmony
Pavle Despalj (conductor)
5.18am
Fritsch, Balthasar (1570/80-after 1608): Paduan and two Galliards (Primitiae musicales, Frankfurt/Main 1606)
Hortus Musicus
Andrew Mustonen (conductor)
5.26am
Ravel, Maurice (1875-1937): Pavane pour une infante defunte
Melbourne Symphony Orchestra
Jorge Mester (conductor)
5.34am
Glazunov, Alexander Konstantinovich (1865-1936): Gavotte in D, Op 49 No 3
Stefan Lindgren (piano)
5.38am
Strauss, Richard (1864-1949): Dance of the Seven Veils (Salome, Op 54)
Sydney Symphony Orchestra
Stuart Challender (conductor)
5.49am
Strauss, Johann II (1825-1899): An der schonen, blauen Donau, Op 314 - waltz for orchestra with chorus ad lib
BBC Philharmonic
Vassily Sinaisky (conductor)
5.59am
J Strauss II, arr. Schoenberg: Kaiser-Walzer (Emperor Waltz), Op 437 (1888)
Canadian Chamber Ensemble
Raffi Armenian (conductor)
6.12am
Rameau, Jean-Philippe (1683-1764): Le temple de la gloire - orchestral suites from the opera-ballet (1745)
Tafelmusik
Jeanne Lamon (conductor)
6.42am
Ravel, Maurice (1875-1937): Valses nobles et sentimentales (1912)
Royal Concertgebouw Orchestra
Bernard Haitink (conductor).