Main content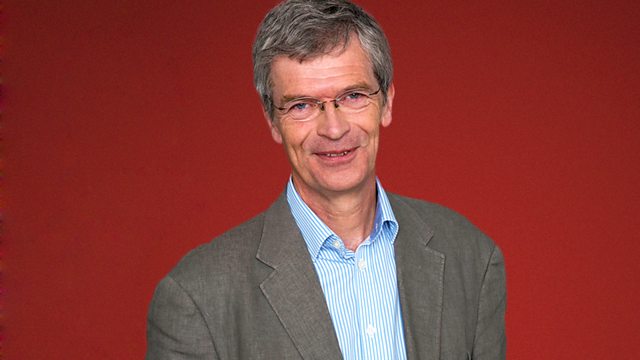 07/11/2009
Geoffrey Smith presents a selection of listeners' jazz requests. Email jazz.record.requests@bbc.co.uk.
Jazz Record Requests
Presented by Geoffrey Smith
Saturday 7 November 2009 5pm–6pm
JRR Signature Tune:
Oh, but on the Third Day (Happy Feet Blues) (Wynton Marsalis)
Performed by Wynton Marsalis (tp), Marcus Roberts (p), Todd Williams (ts), Dr Michael White (cl), Danny Barker (bj), Teddy Riley (tp), Freddie Lonzo (tb), Reginald Veal (b), Herlin Riley (d)
Recorded 28 October 1988
Taken from the album The Majesty of the Blues
1989 CD (CBS 465129 2)
West End Blues (King Oliver) (3:16)
Performed by Louis Armstrong and his Hot Five: Louis Armstrong (t) Fred Robinson (tb) Jimmy Strong (cl, ts) Earl Hines (p) Mancy Cara (b) Zutty Singleton (d)
Recorded 29 June 1928, Chicago
Taken from the album Hot Fives & Sevens Vol. 3
CD (JSP JSPCD314 Track 5)
Hello Lola (McKenzie, Means) (3:15)
Performed by Mound City Blue Blowers: Red McKenzie (comb) Glen Miller (tb) Pee Wee Russell (cl) Coleman Hawkins (ts) Eddie Condon (bj) Jack Bland (g) probably Al Morgan (b) Gene Krupa (d)
Recorded 14 November 1929, New York
Taken from the album 1927 to 1939
1990 CD (BBCCD698(1) Track 2)
Tuxedo Junction (B. Feyne, E Hawkins, W Johnson, J Dash) (2:55)
Performed by Gene Krupa and his Orchestra: Gene Krupa (d, leader) Carky Cornelius, Torg Halten, Ridy Novack, Shorty Sherock (tp) Sid Brantley, Al Jordan, Floyd O'Brian (tb) Clint Neagley (as) Bob Snyder (as, bs) Sam Donahue (ts) Sam Musiker (cl, ts) Tony D'Amore (p) Ray Biondi (g) Biddy Bastien (b) Elton Hill (arr)
Recorded 8 March 1940, New York
Taken from the album Best of Big Bands Gene Krupa Drum Boogie
1993 CD (Columbia 4736592(1); Track 12)
Tonight's the Night (Yardley Yates) (2:58)
Performed by Julia Lee (p, v) Clint Weaver (b) Sam "Baby" Lovett (d) Jim "Daddy" Walker (g) Tommy Douglas (ts)
Recorded April 1949, Kansas City
Taken from the album Tonight's The Night
LP (Charly CRB 1039. S2/2)
Opus Five (Chopin arr. Shavers) (2:45)
Performed by John Kirby and his Orchestra
Recorded 28 July 1939
Taken from the album And the Angels Sing over the Rainbow
1989 CD (Phontastic PHONTCD7667(1); Track 18)
Graas Point (John Graas) (7:50)
Performed by Jazz Studio Two: Don Fagerquist (tp) Milt Barnhart (tb) John Graas (fhn) Herb Geller (as) Jimmy Giuffre (cl, ts, bs) Marty Paich (p) Howard Roberts (g) Curtis Counce (b) Larry Bunker (d)
Recorded 1953 Hollywood
Taken from the album Jazz Studio Two
LP (Brunswick LAT 8046. S2/1)
Just a Gigolo (Julius Brammer, Irving Caesar, Leonello Casucci) (2:28)
Performed by Thelonious Monk (p)
Recorded 2 November 1962
Taken from the album Monk's Dream
CD (CBS 4600652(1); Track 6)
The Ballad of Thelonious Monk (James Rowles) (3:22)
Performed by Carmen McRae (v) Marshall Otwell (p) Ed Bennett (b) Joey Baron (d)
Recorded 1976
Taken from the album Carmen McRae at Ratso's
2002 CD (Hitchcock Media Records CD 0809V2 Track 8)
Camptown Races (Stephan Foster arr. Steve Gray) (6:58)
Performed by BBC Big Band conducted by Barry Forgie Soloists: Cliff Hardy (tb) Barry Robinson (ss)
Recorded 1998
Taken from the album Cool Jazz
1998 CD (BBC WMEM00232 (1); Track 5)
Night at the Opera (Julian Siegel) (6:15)
Performed by Julian Siegel (ts,cl,b-cl) Greg Cohen (b) Joey Baron (d)
Recorded 30 January 2007
Taken from the album Live at the Vortex
CD (Basho SRCD262(1) Disc 1, Track 5)
Jam Session Blues/Ole Miss (Trad arr. Condon, Handy) (9:26)
Performed by Eddie Condon (g) Bud Freeman (ts) Billy Butterfield (tp) Dick Cary (ah) Peanuts Hucko (cl) Lou McGarity (tb) Wild Bill Davison (cnt) Cutty Cutshall (tb) Al Hall (b) Cliff Leeman (d) Gene Schroeder (p)
Recorded 1953
Taken from the album Jam Session Coast to Coast
2002 CD (Collectables CCL75262(2);Disc 1, Track 4)
Don't forget, you can have your say on today's programme, or any aspect of jazz, by visiting the Jazz Messageboard.
The BBC is not responsible for the content of external internet sites.