Main content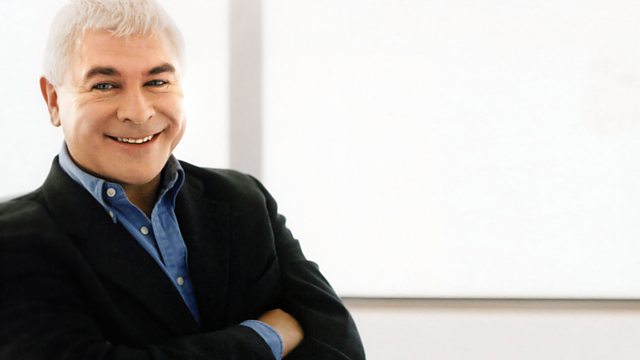 Sean Rafferty
Presented by Sean Rafferty.
Pianist Piotr Anderszewski talks to Sean and performance from acclaimed trumpet player Tine Thing Helseth.
Presented by Sean Rafferty.
With a selection of music and guests from the music world including pianist Piotr Anderszewski who joins Sean ahead of his performance at the Royal Festival Hall.
Trumpet virtuoso Tine Thing Helseth plays in the studio with cellist and leader of the Trondheim Soloists, Oyvind Gimse before their UK tour.
Following the death of Sir John Drummond in 2006, a new fund was established by Bob Lockyer and the Royal Philharmonic Society to commission new music for dance. Bob Lockyer drops into the In Tune studio to talk about the first two pieces for dance, enabled by the Drummond Fund, which will be performed in London this October and November.
Main news headlines are at 5.00 and 6.00
E-mail: in.tune@bbc.co.uk
17:03
HANDEL
Let the Bright Seraphim (Samson)
Isa Katharina Gericke, soprano
Tine Thing Helseth (trumpet)
Norwegian Chamber Orchestra
Elise Batnes (director)
SIMAX PSC1276
Track 11
5:25
17:09
DVORAK
Slavonic Dance in e minor, op.72 no.2
Cleveland Orchestra
Christoph von Dohnanyi (conductor)
DECCA 430 171 2
Track 10
6:13
17:16
CLIP FROM PIOTR ANDERSZEWSKI'S DVD
"UNQUIET TRAVELLER" ("Voyageur intranquille")
Director: Bruno Monsaingeon
Medici Arts 3077938
3:16
17:25
BARTOK
3 Hungarian Folksongs
Piotr Anderszewski (piano)
VIRGIN CLASSICS 26729121
Track 8
3:29
17:35
MOZART
Piano Concerto no.21 in c major K.467 Allegro (final movement)
Sinfonia Varsovia
Piotr Anderszewski (piano/ conductor)
VIRGIN5 45504
Track 6
6:37
17:42
STRAVINSKY
The Showman's Booth – Russian Dance
City of Birmingham Symphony Orchestra
Simon Rattle (conductor)
HMV 5735512
Track 17
2:25
17:49
JULIAN ANDERSON
Khorovod (extract)
London Sinfonietta
Oliver Knussen (conductor)
ONDINE ODE 1012 2
Track 1
1:06
17:51
ALBINONI
Trumpet Concerto in B flat Op. 7 No. 3
Tine Thing Helseth (trumpet)
Norwegian Chamber Orchestra
SIMAX CLASSICS PSC 1292
Tracks 4-6
7:18
18:03
BRITTEN
Boisterous Bourree (Simple Symphony)
Trondheim Soloists
2L50SACD
Track 1
2:53
18:12
LIVE
OLE BULL
I ensomme Stunde/In moments of Solitude
Tine Thing Helseth (trumpet)
Oeyvind Gimse (cello)
2:09
SEGUE
18:15
LIVE
GRIEG
Cow Call
Tine Thing Helseth (trumpet)
Oeyvind Gimse (cello)
1:34
18:22
HOLST
In the bleak mid winter
Tine Thing Helseth (trumpet)
Norwegian Chamber Orchestra
Elise Batnes (director)
SIMAX PSC1276
Track 1
2:43
SEGUE
18:25
HENRY THOMAS SMART
Angels from the realms of glory
Tine Thing Helseth (trumpet)
Norwegian Chamber Orchestra
Elise Batnes (director)
SIMAX PSC1276
Track 5
2:31
18:29
BRAHMS arr. Schoenberg
Final mvt., Piano Quartet in g minor
Vienna Philharmonic Orchestra
Christoph von Dohnanyi (conductor)
DECCA
8:50
18:41
BACH
Partita no.1 in B flat major, BWV.825
Murray Perahia (piano)
SONY 88697443612
Tracks 1-6
18:21