Main content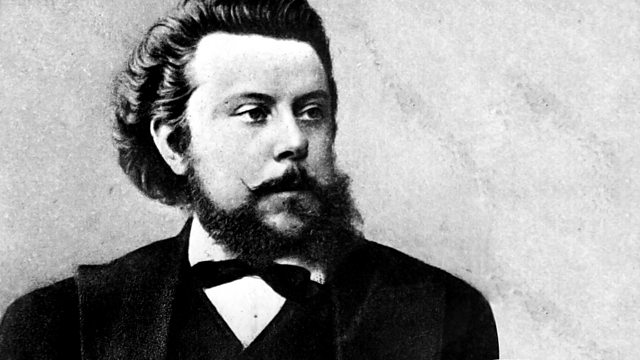 Donald Macleod charts the course from apprenticeship to The Nursery, the song cycle that marks Mussorgsky's first musical maturity.
Donald Macleod explores the life and work of Modest Mussorgsky.
He charts the course from Mussorgsky's fledgling, teenage venture onto the musical nursery slopes through his apprentice years with Mily Balakirev, his musical breakthrough with St John's Night on Bald Mountain, and his first stab at operatic realism in The Marriage, to his song cycle The Nursery - somewhat ironically, the first product of his musical maturity.
Ballet of the Unhatched Chicks (Pictures at an Exhibition)
James Crabb, Geir Draugsvoll (accordions)
EMI 5 69705 2 Tr 14
Porte-Enseigne Polka (1852)
Sylvie Carbonel (piano)
Adda 580052 Tr 17
Two early orchestral pieces (1858): Chorus of People in the Temple (Oedipus in Athens); Scherzo in B flat
London Symphony Orchestra and Chorus
Claudio Abbado (conductor)
RCA RD70405 Trs 7, 4
St John's Night on Bald Mountain (1867)
National Symphony Orchestra of Ukraine
Theodore Kuchar (conductor)
Naxos 8.555924 Tr 4
The Marriage (1868) - Sc 2
Podkolesin ...... Vladimir Khrulev
Fiokla Ivanovna ...... Ludmilla Kolmakova
USSR Ministry of Culture Symphony Orchestra
Gennadi Rozhdestvensky (conductor)
Olympia OCD 145 Trs 31-36
The Nursery (1868-72)
Boris Christoff (baritone)
Alexandre Labinsky (piano)
EMI CHS 763025 2 CD 2 Trs 15-21.
More episodes
Previous
You are at the first episode