Main content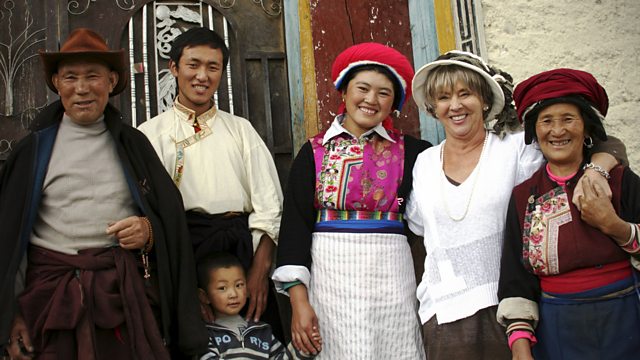 Sue Johnston's Shangri La
Sue Johnston searches for the fantasy world of Shangri La, described in James Hilton's novel Lost Horizon. She travels through China and into Tibet, to the tiny village of Yipung.
Sue Johnston goes in search of her lifelong dream - the lost, fantasy world of Shangri La.
Sue first came across the story of Shangri La as a 16 year old in 1959 when she watched the movie Lost Horizon with her mother on their first black and white television. The film was based on a book written by Englishman James Hilton in 1933. She read the book voraciously and has re-read it many times over the years since. As a child she was fascinated by the Orient and the mysteries of the Far East, but in those post-war austerity days the chances of ever following her dream, of finding the actual place, seemed an unattainable goal.
It looked like her dream would remain just that, as life took over and she got married, had a child, started a successful acting career and got divorced. The dream slipped further away into the dark, forgotten corners of her mind. Recently, as her life has changed, she has recalled her longed-for Shangri La. Her parents died, her son left home and settled into his own life, and her sense of mortality hit home. She decided that it was time to find the inspiration for the book, the story of Lost Horizon.
Sue's quest takes her through south-west China's Yunnan province and into Tibet, travelling over high mountain passes, into deep, hidden valleys and gorges, through bustling towns and ultimately on horseback to her final destination, the sacred mountain of Kawarkapo and the tiny, isolated village of Yipung - on the edge of the Tibetan Plateau and the basis for James Hilton's novel.
The film is a contemporary travelogue and a journey into the private world of Sue Johnston. She changes and learns about herself, overcoming fears and exposing a previously private, emotional side.
Credits
| Role | Contributor |
| --- | --- |
| Presenter | Sue Johnston |
| Director | Alexis Girardet |
| Producer | Alexis Girardet |