Main content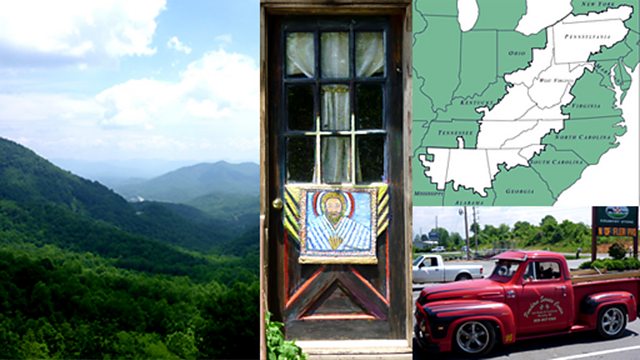 Mount Airy Fiddlers Convention
Banning Eyre discovers American folk music from the Appalachians, visiting Mount Airy, North Carolina, talking to folk musician Mike Seeger and visiting a local radio station.
In the first of two programmes recorded on-location for World Routes, broadcaster, writer and musician Banning Eyre embarks on his own Appalachian roadtrip to discover and record the uniquely American folk music that was born in the southern Appalachian mountains through the 18th and 19th Centuries.
He visits the small town of Mount Airy, in Surry County, North Carolina, home to the Mount Airy Fiddlers Convention, where he meets the extraordinary players and singers that are keeping this music alive, and finds out how Old Time music is the direct precursor of what we now call Country and Bluegrass.
In an interview with musician and field recordist Mike Seeger, recorded just a few months before he died, Banning discovers the roots of the music in the parallel histories of the European settlers and African slaves, and how post-Emancipation a distinctly American music was forged from the interplay of the African banjo and the European fiddle. Surry County musician Paul Brown explains the record companies' part in defining Old Time music as a predominantly white occupation, and what's so speacial about this part of the country. He visits local radio station WPAQ to hear how they are keeping this traditional rural music alive, and tries the festival delicacy that is deep-fried Oreos.
Producer: Peter Meanwell
Repeat.
Music and featured items
Appalachian musical legends.

Banning Eyre talks about the Appalachian musical legends.

Duration: 06:17

Music Played

Interview with Mike Seeger.

Banning talks to Mike Seeger who is at the forefront of the revival of Appalachian music.

Duration: 10:06

Appalachian songs.

We hear two songs from Appalachian musicians Benton Flippen and the Smokey Valley Boys.

Duration: 06:44

Music Played

Radio station WPAQ 740AM.

Banning visits the local radio station WPAQ 740AM.

Duration: 05:39

Mount Airy Fiddler's Convention.

At the Mount Airy Fiddler's Convention, Banning describes the scene.

Duration: 04:42

Music Played

Interview with Paul Brown.

Banning talks to Paul Brown, who has been studying the music of Surrey County.

Duration: 06:56

Two more singers.

We hear two more contestants perform on stage at the Mount Airy Fiddler's Convention.

Duration: 04:40

Music Played

flat-foot dancing

Banning meets flat-foot dancer Phil Jameson.

Duration: 07:37

Music Played

Featured in...

This collection features our choice of musical highlights from across the globe.