Main content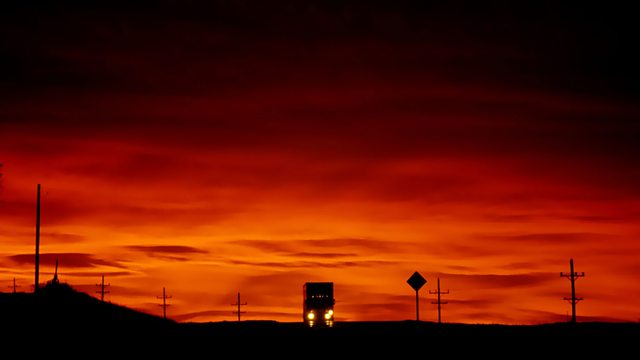 15/10/2009
Music including Gounod's Mors et Vita, plus Litolff, Telemann, Karlowicz, Norman, Lassus, Bach, Litzau, Ridout, Mendelssohn, CPE Bach, JCF Bach, JM Haydn, Haydn, Kreisler, Purcell.
1.00am
Gounod, Charles (1818-1893): Mors et Vita - eine geistliche Trilogie (1881-83)
Barbara Frittoli (soprano)
Lidia Tirendi (mezzo-soprano)
Zoran Todorovich (tenor)
Davide Damiani (baritone)
Budapest Radio Choir
Frankfurt Radio Symphony Orchestra
Marcello Viotti (conductor)
3.19am
Litolff, Henry (Charles) (1818-1891): Scherzo (Concerto Symphonique No 4, Op 102)
Arthur Ozolins (piano)
Toronto Symphony Orchestra
Mario Bernardi (conductor)
3.27am
Vivaldi, Antonio (1678-1741): Concerto in D minor for strings and continuo (Il Piccolino, RV 127)
I Cameristi Italiani
3.31am
Telemann, Georg Philipp (1681-1767): Suite in C for harpsichord solo (Essercizii Musici)
Sabine Bauer (harpsichord)
Camerata Koln
3.50am
Karlowicz, Mieczyslaw (1876-1909): To a sorrowful girl, Op 1, No 1 (1895); In the snow, Op 1, No 3; My soul is sad, Op 1, No 6
Jadwiga Rappe (alto)
Ewa Poblocka (piano)
3.56am
Norman, Ludvig (1831-1885): Sextet in A minor for piano, two violins, viola, celllo and double bass, Op 29 (1869/1873)
Bengt-Ake Lundin (piano)
Uppsala Chamber Soloists:
Henrik Jon Petersen, Anders Jakobsson (violins)
Sten Johan Sunding (viola)
Lars Frykholm (cello)
Staffan Sjoholm (double bass)
4.29am
Lassus, Orlande de (1532-1594): Musica Dei donum - secular motet for instruments
Currende (instrumental only)
Erik van Nevel (conductor)
4.31am
Caimo, Giuseppe (c.1545-c.1584): Piangete valli abbandonate e sole
Daedalus
Roberto Festa (director)
4.35am
Bach, Johann Sebastian (1685-1750): Jesu, meine Freude (incomplete) - chorale-prelude for organ, BWV 753
Christophe Bossert (organ)
4.39am
Litzau, Johannes Barend (1822-1892): Choral-Bearbeitung Uber. Jesu, nun sei gepreiset, Op 36, No 6
Cor Ardesch (organ) on Organ Willem Hendrik Kam 1859 Grote Kerk, Dordrecht, Onze Lieve Vrouwekerk
4.44am
Ernesaks, Gustav (1908-1993): Sireli, Kas Mul Onne (Lilacs)
Estonian Radio Mixed Choir
Ants Soots (conductor)
4.46am
Ernesaks, Gustav (1908-1993): Kutse (The Call)
Mati Turi (solo tenor)
Estonian National Male Choir
Ants Soots (director)
4.48am
Ernesaks, Gustav (1908-1993): Kuulajale (To One Who Listens)
Segakoor Olevine (Olevine Mixed Choir)
Ants Soots (conductor)
4.51am
Ridout, Godfrey (1918-1984): Fall fair (1961)
Edmonton Symphony Orchestra
Uri Mayer (conductor)
5.01am
Mendelssohn, Felix (1809-1847): Overture: Die Schone Melusine, Op 32
The Danish Radio Concert Orchestra
Takuo Yuasa (conductor)
5.12am
Mendelssohn, Fanny Hensel (1805-1847): Allegro moderato for piano, Op 8, No 1 (1840)
Sylviane Deferne (piano)
5.18am
Handel, Georg Frideric (1685-1759): Aria: Prove sono di grandezza/To pardon men who are subdued (Alessandro)
Alessandro ...... Rene Jacobs (countertenor)
La Petite Bande
Sigiswald Kuijken (director)
5.22am
Bach, Johann Sebastian (1685-1750): Sonata in A for flute and keyboard, BWV 1032
Bart Kuijken (flute)
Gustav Leonhardt (harpsichord)
5.37am
Bach, Carl Philipp Emmanuel (1714-1788): Symphony in B flat, Wq 182, No 2
Camerata Bern
5.48am
Bach, Johann Christoph Friedrich (1732-1795): Sinfonia in D minor for strings and continuo
Das Kleine Konzert
5.57am
Haydn, Johann Michael (1737-1806): Ave Regina for double choir, MH140
Ex Tempore
Florian Heyerick (director)
6.09am
Haydn, Joseph (1732-1809): String Quartet in G minor, Op 20, No 3
Quatuor Mosaiques
6.28am
Arensky, Anton Stepanovich (1861-1906), arr Vladimir Kriukov: Romance No 3: Ne zazhigay ognya (Do not kindle the fires)
6.30am
Kreisler, Fritz (1875-1962): Nina, after Tre Giorni son che Nina by Giovanni Pergolesi
The Hertz Trio
6.34am
Buckinx, Boudewijn (b.1945): Piece frite a droite et a gauche (Homage to Erik Satie)
Steven and Stijn Kolacny (pianos)
6.43am
Purcell, Daniel (c.1664-1717): Sonata in D for trumpet, strings and continuo
Ivan Hadliyski (trumpet)
Kamerorchester
Alipi Naydenov (conductor)
6.47am
Purcell, Henry (1659-1695): The Married beau, or The Curious impertinent, Z603 - incidental music
CBC Vancouver Orchestra
Monica Huggett (conductor).