Main content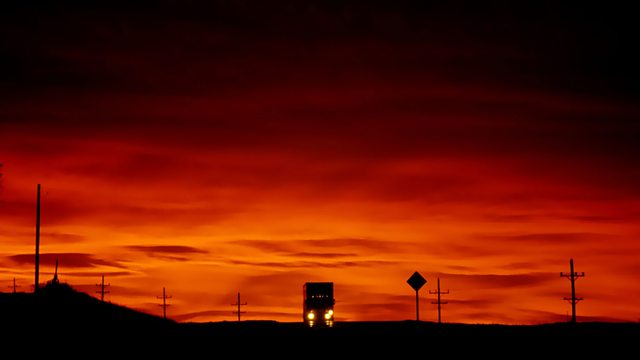 11/10/2009
Music including Telemann, Bizet, Wolf, Saint-Saens, Piston, Bernhard, Moscheles, Durante, Hubay, Bach, Hummel, Provenzale, Vladigerov, Casterede, Weber and Mozart.
1.00am
Telemann, Georg Philipp (1681-1767): Concerto in A for flute, violin, cello, strings, and continuo, TWV LIII A2
1.25am
Telemann: Trio in D for two flutes and continuo
1.35am
Telemann: Flute Quartet in E minor
1.44am
Telemann: Violin Sonata in A
1.58am
Telemann: Conclusion in E minor for two flutes and strings
Concerto Copenhagen
Monica Huggett (violin/director)
2.04am
Bizet, Georges (1838-1875): Symphony in C
Norwegian Radio Orchestra
Othmar Maga (conductor)
2.40am
Wolf, Hugo (1860-1903): Five Orchestral Songs
Albena Kechlibareva Bernstein (mezzo-soprano)
Bulgarian National Radio Symphony Orchestra
Roumen Bayrakoff (conductor)
3.01am
Saint-Saens, Camille (1835-1921): Trio No 1 in F for piano, violin and cello, Op 18
Ulf Forsberg (violin)
Mats Rondin (cello)
Stefan Lindgren (piano)
3.31am
Piston, Walter (1894-1976): Prelude and Allegro (1943)
David Schrader (organ)
Grant Park Orchestra
Carlos Kalmar (conductor)
3.42am
Bernhard, Christoph (1628-1692): Missa - Durch Adams Fall
Henriette Schellenberg (soprano)
Laverne G'Froerer (mezzo-soprano)
Keith Boldt (tenor)
George Roberts (baritone)
Vancouver Chamber Choir
Jon Washburn (conductor)
3.52am
Moscheles, Ignaz (1794-1870): Sonate melancolique in F sharp minor for piano, Op 49
Tom Beghin (fortepiano)
4.04am
Durante, Francesco (1684-1755): Concerto per quartetto No 4 for strings in E minor
Concerto Koln
4.15am
Anon Medieval/Renaissance: Fortuna disperata
Busnois, Anthoine (?-1492): Fortuna disperata
Isaac, Heinrich (ca.1450-1517): Fortuna disperata
Daedalus
4.27am
Frescobaldi, Girolamo (1583-1643): Canzona trigesimaprima, detta L'Arnolfina; Canzona quinta a 3
Musica Fiata, Koln
Roland Wilson (director)
4.33am
Moszkowski, Moritz (1854-1924): Valse in E for piano, Op 34, No 1
Dennis Hennig (piano)
4.41am
Mozart, Wolfgang Amadeus (1756-1791): Divertimento in C/F, K439b
Geert Bierling (organ)
4.55am
Schumann, Robert (1810-1856), arr Stefan Bojsten: Hor' ich das Liedchen klingen (Dichterliebe, Op 48 No 10)
Olle Persson (baritone)
Dan Almgren (violin)
Torleif Theden (cello)
Stefan Bojsten (piano)
5.01am
Melartin, Erkki (1875-1937): The spring came with hope (Aino, Op 50) - 1909
Aulikki Eerola (soprano)
Finnish Radio Symphony Orchestra
Kari Tikka (conductor)
5.08am
Hubay, Jeno (1858-1937): Preghiera
Violin Solo (A cremonai hegedus/The Violin Maker of Cremona); Der Zephir (6 Blumenleben, Op 30 No 5)
Ferenc Szecsodi (violin)
Istvan Kassai (piano)
5.20am
Raminsh, Imant (b.1943): Blow Ye Wind! for mixed chorus
Unnamed soprano soloist
KAMER Youth Chorus
Maris Sirmais (conductor)
5.24am
Bach, Johann Sebastian (1685-1750): Concerto in A, BWV 1055
Hans-Peter Westermann (oboe d'amore)
Camerata Koln
5.38am
Hummel, Johann Nepomuk (1778-1837): Rondo brillant in A for piano and orchestra, Op 56
Rudolf Macudzinski (piano)
Slovak Radio Symphony Orchestra
Ludovit Rajter (conductor)
5.59am
Provenzale, Francesco (c.1624-1704): La Colomba Ferita (excerpts from Act 1)
Angelo ...... Roberta Invernizzi (soprano)
Santa Rosalia ...... Gloria Banditelli (mezzo)
Demonio ...... Luca Dordolo (tenor)
Scaccia Napolitano ...... Pino de Vittorio (tenor)
Calabrese ...... Giuseppe Naviglio (baritone)
Antonia Cameriera ...... Daniela del Monaco (alto)
Eurillo Paggio ...... Roberta Andalo (soprano)
Capella della Pieta de'Turchini
Antonio Florio (conductor)
6.14am
Vladigerov, Pancho (1899-1978): Poeme hebreu, Op 47
Bulgarian National Radio Symphony Orchestra
Alexander Vladigerov (conductor)
6.28am
Casterede, Jacques (b.1926): Fantasie Concertante
David Thornton (euphonium)
Joanne Seeley (piano)
6.37am
Weber, Carl Maria von (1786-1826): Clarinet Concertino in E flat, Op 26
Hannes Altrov (clarinet)
Estonian National Symphony Orchestra
Paul Magi (conductor)
6.47am
Mozart, Wolfgang Amadeus (1756-1791): Nine Variations on a minuet by Duport for piano, K573
Christian Ihle Hadland (piano).