Main content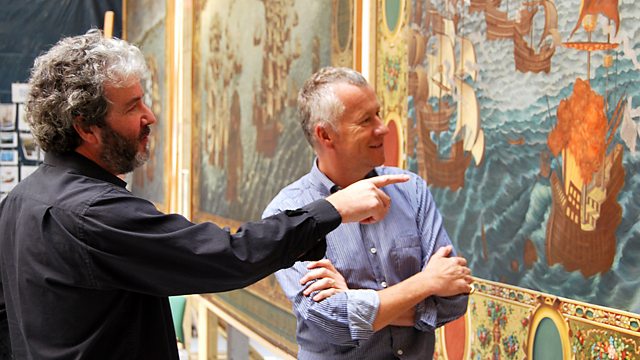 15/10/2009
Peter Hook, co-founder of Joy Division, on the legacy of the Hacienda club; a new production of Trevor Griffiths's Comedians reviewed; John Baldessari on his artistic inspirations.
16 October is the 175th anniversary of the Houses of Parliament burning down - and with it, the complete destruction of a set of 17th-century tapestries depicting the defeat of the Armada.
However, an engraving of the works survived. John Wilson visits curator Malcolm Hay at the Palace of Westminster and travels to Wrest Park, the country house in Bedfordshire where, for the past two years, artist Anthony Oakshett has been leading a team painstakingly recreating six tapestries - as paintings - prior to their being reinstalled in the House Of Lords in 2010.
As co-founder of Joy Division, and later New Order, musician Peter Hook found global success, with New Order's single Blue Monday becoming the best selling 12-inch single of all time. But the profits from these record sales were largely poured into the running of a nightclub in his home-town of Manchester. The Hacienda changed the face of Manchester's music scene forever, but spiralling debts forced it to close in 1997. Peter Hook reflects on the Hacienda's legacy, its immortalisation on film, and why Bernard Manning was the first act to perform there.
American artist John Baldessari, who pioneered conceptual art in the 1960s, talks about how he was inspired by a group of teenage delinquents, what place words have in his art and why he cremated many of his early works.
Trevor Griffiths's play Comedians first appeared in 1975, and was soon being described as, 'the best play of the 1970s'. A new production has just opened, starring Keith Allen, Reece Shearsmith, Mark Benton and David Dawson; comic Natalie Haynes and John Wilson assess its continuing relevance.
Last on

Broadcast